Just when we thought we had seen it all, Google go and do it again. Who would have thought that the latest giveaway for all of the tech lovers and web developers at the 2014 Google I/O conference would be a piece of cardboard?
This isn't just any piece of cardboard though; once combined with your android phone this sheet of corrugated cardboard transforms into a virtual reality head set; highlighting a big development of the sci-fi future and an exciting invention for all packaging lovers.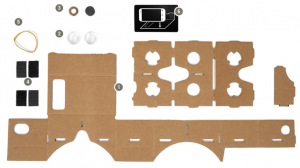 Available in two colours, the headset allows users to download the free Google Cardboard app from their Android operating system, and after simply cutting and folding the cardboard can transform it into a pair of 3D binoculars. Using the headset you can then escape the trials and tribulations of day to day life and explore the world with Google Earth, check out the latest music videos on Youtube and even transport yourself into a movie theatre experience.
But what does this mean for those of us passionate about packaging? This innovative creation is in fact an awesome yet simple invention. Its core materials include laser cut 1.5mm corrugated cardboard, 25mm diameter crystal clear bk7 glass lenses, neodymium ring and ceramic disk magnet and Velcro strips. What's more Google hasn't forgotten about the technical details that come with choosing the right cardboard for a particular application, Google recommend using a thin and sturdy board and cite E Flute as the perfect grade. E Flute board is one of the thinnest packaging boards on the market and is mostly used for retail boxes and cartons.
As well as its simple, affordable materials, the cardboard is also recyclable, meaning it is great for the environment (as well as your social life!) and is something that we are passionate about here at Kite. Be rest assured, the headsets are available to us all not just those working at the Google headquarters; they can be found online at a small fee, or if you feel up to the challenge you can follow the Google DIY instructions and build your own.
Convinced yet?... What are you waiting for? I know here at Kite we definitely will be getting behind the world of 3D cardboard awesomeness and be building our own virtual headsets!
Please feel free to contact one our friendly telesales team if you would like a head start with building your own and be advised on the corrugated cardboard perfect for your device on 02476 420065.
Have fun!