How To Cheaply Package Large Pieces Of Artwork – The Packaging Doctor
The Surgery Is Now Open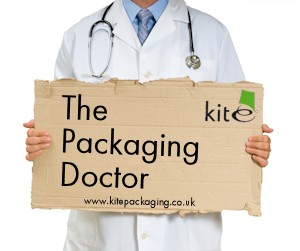 Hi Doctor,
I work for an advertising agency, and I'm about to send out 250 A1 size Foamex boards to customers which show mock-ups of their billboard designs. Obviously these cannot be damaged in the post but my budget is incredibly tight, my boss suggested corrugated paper and bubble wrap however this seems quite time-consuming - is there another option?
Thanks and best, Jane
Hi Jane,
The great thing about Foamex boards is that they are a less porous foam material, which makes them excellent for printing on and means they don't snap and crumble as easily as other types of foam. They are also fairly slim, usually 10mm thick, which gives a range of packaging options.
Your bosses suggestion of corrugated paper and bubble wrap is a little more time-consuming, however it is the most cost effective way to package a product such as this. I would suggest using 1.2 metres of 600mm wide and 1000mm long small bubble wrap per board. This works out to 3000mm to cover all the boards and therefore you will need to purchase 3 rolls for all the products. For the paper, recycled paper rolls will offer adequate wrapping and protection, choose the 900mm wide paper to cover the height of the board. If you require extra protection I would opt for virgin Kraft paper which offers excellent burst resistance or as your boss suggested corrugated paper which gives another layer of padding to protect the product, please note though this is the slightly more expensive option.
Other options available to you are using strong, double walled cardboard to 'sandwich' the product and protect it from any knocking or scrapes. You will need one for the back and one for the front, and tape to seal it all together. For extra protection you can also use solid board edge protectors at the sides to ensure they don't get damaged. The A1 size boards come in packs of 20 and as you will need 500 (one for back, one for front) you enter our final price break which saves 40p per board. You may also want to consider mailing bags; Kite's grey polythene mailing bags offer incredibly durability and burst resistance which are perfect for flat, solid products. The sizes available include 700x850mm for a snug fit, and 850x1050mm allowing extra room so that you can bubble wrap the product first.
Let me know which one you decide to go ahead with, you can request samples of all these by heading to the 'samples' tab on the website.
Best Wishes, The Packaging Doctor
Note: All the packaging problems our doctor receives are real queries from customers or non-customers.
If you have a packaging problem that needs diagnosing
get in touch on Twitter @kitepackaging
or email packagingdoctor@kitepackaging.co.uk