How to pack medical implants – The Packaging Doctor
Products can come in all shapes and sizes and so finding packaging can often prove challenging. This is where Kite's industrial packaging offering can help. When it comes to more delicate, expensive items that need moulded protection, we have exactly what you need. Let's see how the Packaging Doctor can assist with today's queries.
Dear Doctor,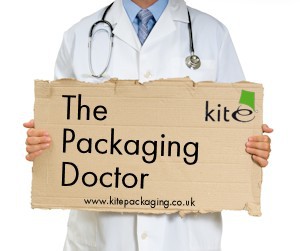 We manufacture and pack medical implants that need to be protected well whilst they are on the road. I currently use precision cut foam inners but I think I could find other packaging that does the job just as well for a better price. Can you help?
Many thanks,
Rob
Hi Rob,
Thanks for getting in touch – let's see what Kite products can help.
We think we have the best cost-effective solution for you. Instead of investing in specially made precision cut foam inners, we recommend our cushioning foam inserts. These comprise of a protective, eggbox style design made from low density polyurethane which will ensure your items stay firmly in place in transit.
By replacing your foam inners with the foam lining at Kite, you are getting the same level of protection at the fraction of the price. We advise putting these inside our brown postal boxes.
Perfect when needing to send a variety of items in a professional box, our brown postal boxes are made from high quality single wall cardboard material. Lightweight but sturdy, these boxes are great for keeping costs down whilst providing you with a highly presentable outer box.
By combining these brown postal boxes and foam inserts, you can make sure your medical implants get to their destination in prime condition whilst reducing your spend on packaging.
Best wishes,
The Packaging Doctor
Note: All the packaging problems our doctor receives are real queries from customers or non-customers. If you have a packaging problem that needs diagnosing get in touch: Twitter @kitepackaging or email packagingdoctor@kitepackaging.co.uk