How to pack oil paintings – The Packaging Doctor
When it comes to protecting delicate items in transit like those in the fine art industry, Kite knows it is vital to have the right internal and external protection in place to provide users with an effective solution. Let's see how the Packaging Doctor can help with today's packaging query.
Dear Doctor,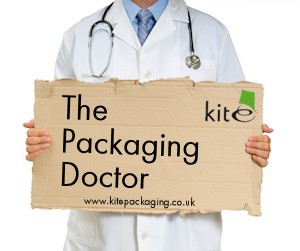 I own a small fine art business that sends out oil paintings in the post. I'm looking for low cost, protective packaging that keeps my paintings intact and gets them to their destination in the same condition they leave my premises in.
Thanks,
Nick
Hi Nick,
Thanks for getting in touch – let's see what packaging solution we can offer to protect your paintings.
The first product we recommend is our foam rolls. Manufactured by Jiffy from 'closed cell' polyethylene, our non-abrasive foam rolls prevent scratches occurring on polished surfaces, and leave no residue. By wrapping your paintings inside, the foam will protect them from any potential smudge damage and because our foam is CFC free, it is an environmentally friendly option of internal protection.
The next Kite product we suggest is our U-tulip corner protectors that will provide effective, cushioning protection for the corners of your oil paintings. They are all non-scratch and designed with flexibility and high grip strength as well as being 100% recyclable and chemically neutral.
Lastly, for the main external protection, our telescopic picture frame boxes are the ideal packaging solution. Our strong, double walled picture frame boxes are a quick and easy way to safely package your oil paintings, preventing damage sustained through movement and vibration in transit. These come in a range of sizes, meaning you can find the right picture frame box for your oil paintings, regardless of what size they are.
Best wishes,
The Packaging Doctor
Note: All the packaging problems our doctor receives are real queries from customers or non-customers. If you have a packaging problem that needs diagnosing get in touch: Twitter @kitepackaging or email packagingdoctor@kitepackaging.co.uk