How To Package Astro Turf With Wild Flowers – The Packaging Doctor
Damages, this is a topic that we talk about time and time again in the surgery. However, it is important to acknowledge that damages are a real issue, and one of the top three reasons why packaging is needed.
On the market there are lots of packaging solutions specifically designed for certain products. Examples include, mug boxes for mugs, and anti-static bags for electrical components; all designed to make businesses lives easier.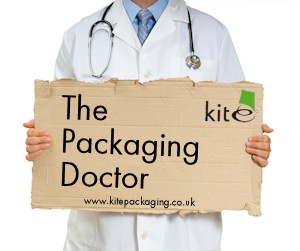 However, when you are dealing with unusually-shaped and fragile items, it is often a struggle to find suitable packaging, particularly when there is no 'off-the-shelf' solution for your product.
Today in the surgery we meet an Astro Turf manufacturer, who is seeing their deliveries get damaged during transit. Read below how I helped lay down some helpful packaging advice, to put a stop to the problem and help their business continue to grow.

Hi Doctor,
I own a business that makes Astro Turf, and recently introduced a brand new range, selling the grass complete with beautiful, wild flowers.
I desperately need your help though. The couriers I use to send my products are damaging the flowers. The damage is costing me time and money, and I'm worried that I'm going to have to stop selling my new range.
What can I use to avoid this damage?
Thanks,
Janette
Hi Janette,
Thanks for your question in the surgery today. Our priority here is that we ensure the natural beauty of the flowers are preserved, and we get your turf delivered in one piece.
Large bubble wrap is the ideal packaging product to protect the flowers. It is designed specifically for customers, just like yourself, who ship fragile and easily breakable items.
Made with large bubbles, the product offers great flexibility, allowing you to cut to shape and fit around any order size. Simply wrap the bubble wrap around the Astro Turf and seal with tape. The flowers will instantly be cushioned, but not flattened, and ready for transit.
To maximise protection, complete the package with lay flat polythene tubing.
Available on one large roll, our heavy duty tubing is the perfect, simple choice for creating custom sized bags. Made from 125 micron polythene it is ideal for businesses packing heavier items, most commonly carpets and rugs, which makes it perfect for your Astro Turf.
To use, choose a suitable width first - between 20 inches and 48 inches should be ideal. Then, simply slide the tubing over the Astro Turf, cut to your desired length and seal at both ends with a heavy duty heat sealer.
Your package is secured and ready to send!
Hope this helps!
Best wishes,
The Packaging Doctor
Note: All the packaging problems our doctor receives are real queries from customers or non-customers.
If you have a packaging problem that needs diagnosing get in touch on Twitter @kitepackaging or email packagingdoctor@kitepackaging.co.uk