How to package branded bottle openers – The Packaging Doctor
At Kite, customer satisfaction is key, our passion is helping you to find the perfect packaging solution, no matter how big or small. We focus on solving the solution and understand that packaging requirements for each company can depend on a factor of things, we are here to find what works best for you as a company.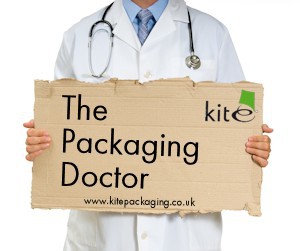 Whether you are experiencing problems with your current packaging, are new to the world of packaging or simply fancy a change, we are sure to find a solution for you.
Today in the surgery we meet a company who supply branded merchandise.
Dear Doctor,
I hope you can help.
We supply a range of branded goods, that are often very varied and require different types of protection and packaging. We have an item that we are struggling to find a packaging solution for, it is a long and slim items and we find that any type of packaging we use just seems a waste as there is always so much space left over.
The item is 70mm wide and 200mm long.
We hope you can help.
Thank you,
Gareth
Hi Gareth,
Thank you for your question here in the surgery today, it is a pleasure for us to be able to help.
We completely understand the importance of not wasting packaging, this is often a big issue underestimated by many companies. With a stock range of over 2,500 products, we can be sure to reduce waste as much as possible.
Our lay flat tubing (medium duty 75mm wide) along with our heat sealer (basic 200mm wide with a cutter), will allow you to custom make the size of the bags you require.
Kites polythene tubing is wound onto a roll for continuous use allowing you to tailor-make bags to any size, protecting items from dirt, dust and moisture. Our medium duty lay flat tubing is best suited to lighter weight use.
Our basic heat sealer with a cutter is ideal to use with lay flat tubing to allow you to make your own custom sized polythene bags.
We hope this helps.
Best wishes,
The Packaging Doctor