How to package cupcakes – The Packaging Doctor
We definitely have a sweet tooth here in the surgery, cakes, sweets, biscuits – anything sweet. And if you hadn't noticed, we are now entering the wedding season, which brings with it some amazing cake creations.
A cake is often an important part of many big occasions so it is vital that they are completely protected during transit. First impressions are always important, particularly for an item that has so much significance.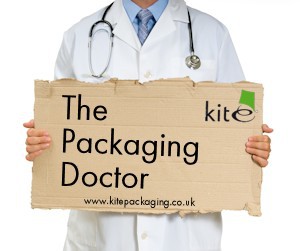 Today in the surgery we meet a customer who is looking for a solution to deliver her cupcakes by courier.
Dear Doctor,
I hope you can help me.
I sell cupcakes for all occasions and it is always a really important decision for customers and therefore I need to make sure that they are protected during delivery so they arrive in perfect condition.
The courier I am using often does not take complete care during transit and I seem to be spending excessive money on packaging trying to protect my cupcakes and I am still experiencing damage. The main issue is the outer packaging as this is where the damage seems to start.
I hope you can help as it is critical.
Thank you,
Barbara
Hi Barbara
In true Packaging Doctor Style we can most certainly help you with your query. We understand the importance of protecting your cupcakes during transit, nobody wants to open a package to find ruined cakes.
Let me present to you our double wall cardboard boxes (9x6x6), designed to offer superior strength and reliability, they will be sure to protect your inner packaging, offering extra protection when shipping sensitive products.
For a cost-effective seal on your boxes during transit, I would recommend our Kite branded tape. This will give you a quality product at the most competitive price.
Finally complete the package with our fragile handling labels. This will make it clear to the handler that your cupcakes need to be treated with care, avoiding damage during transit.
Hope this helps!
Best wishes,
The Packaging Doctor
Note: All the packaging problems our doctor receives are real queries from customers or non-customers.
If you have a packaging problem that needs diagnosing get in touch:
Twitter @kitepackaging or email packagingdoctor@kitepackaging.co.uk