How To Package Farm Machinery – The Packaging Doctor
We can all pin-point a time when something we relied on suddenly broke, and we had to frantically search for a quick and easy solution to fix it.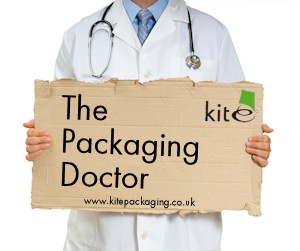 Although the 'quick fix' may have worked well at the time, we can all be guilty of sticking to it as a long-term solution and risk getting 'stuck in our ways'.
It's healthy business practice to continuously review and update current operating methods, to ensure workplace efficiency is optimised. New procedures allow for improved efficiencies, helping to reduce labour costs, save time, and save money.
Today in the surgery we see a farm machinery manufacturer, who is looking for a new packing solution to speed up his operation. Read below how I helped clear up this mucky situation, and spread some packaging joy…

Hi Doctor,
I work for a company that manufactures farming equipment parts, and ships all over the UK. From tractors to trailers, we cover it all.
Our current method is to wrap the parts in bubblewrap and foam to protect them, and then strap them onto a pallet.
Although this does protect the part, it is too time-consuming and we need something quicker as we get busier.
What would you recommend?
Thanks,
Harry
Hi Harry,
Thanks for your question in the surgery today. I have a simple solution for you up my sleeve.
Firstly, check out our Pallet Boxes. These boxes are specifically manufactured for transporting heavy items. Made from strong, double wall corrugated cardboard; they provide a protective and reliable solution every time you ship a machine part.
The boxes make great space savers. They are designed to maximise space in shipping containers, and can quickly be collapsed on-demand to help save space within the warehouse.
Most importantly, they are easily and quickly implemented into your current packaging operation, with minimal training required. The boxes arrive flat on top of a pallet, creating the base for your package. To use, simply remove the lid, insert your machine part in the box and place the lid back on top.
Now your parts are comfortably in the box, I would further diagnose some strapping to maximise security. Polyester strapping is one of the strongest plastic strapping products available on the market, and is designed to secure heavier loads, perfect for your machinery.
By using strapping you are able to use it to bundle items together inside the box to ensure nothing is lost, and use around the package to secure the lid of the pallet box in place.
What's great about my diagnosis is that it only requires one labourer, automatically freeing up spare pairs of hands. The operation works more efficiently, helping you get all of those orders out of the door.
Hope this helps!
Best wishes,
The Packaging Doctor
Note: All the packaging problems our doctor receives are real queries from customers or non-customers.
If you have a packaging problem that needs diagnosing get in touch on Twitter @kitepackaging or email packagingdoctor@kitepackaging.co.uk