How To Package Steel Pipes – The Packaging Doctor
The Surgery Is Now Open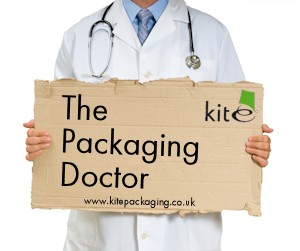 Good Afternoon Doctor,
I work for a small cable company providing a range of cables, wiring and piping. I have steel pipes that are transported in vans with the dimensions of 24X16X12 inches and want a snug fit so that it doesn't move around too much. I really want to avoid using void fill as it's too time-consuming and I'll be packing these on my own. I'm not too worried about protection, they are quite robust so just need to be inside something so they don't get wet or dirty.
Cheers, Martin
Hi Martin,
Sounds like, as your company is relatively small, you would need a packaging option that is available from stock product without having to go down the bespoke road. If that's the case I have taken a look at our wide stock range of boxes the closest dimensions I can find are 24X18X18 which I fear may be too large for your product. As you want to avoid using void fill I would suggest a mailing bag, a grey polythene mailing bag is tough enough to protect the piping and is lightweight which will save space on the truck and allow you to transport more goods cheaply. I would recommend a size 550X750mm or 700X850mm which will fit the pipes accurately and allow space for the depth of the product.
Let me know how you get on, The Packaging Doctor
Note: All the packaging problems our doctor receives are real queries from customers or non-customers.
If you have a packaging problem that needs diagnosing
get in touch on Twitter @kitepackaging
or email packagingdoctor@kitepackaging.co.uk