How To Save Time Packing With Bubble Wrap – The Packaging Doctor
The Surgery Is Now Open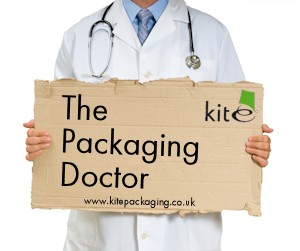 Hello Doctor,
I own a small chocolate company, which specialises in real hot chocolate, selling predominantly to the business to business market. Although I am a small producer I send out high volumes of the hot chocolate to farm shops, garden centres and independent cafes along with our own hot chocolate glasses which are, of course, highly breakable. Currently I use bubble wrap but I find it incredibly time-consuming to measure and cut the right amount each time. Is there a better alternative? I currently use about 2 rolls of bubble wrap once a fortnight.
Cheers, Malcolm
Hi Malcolm,
What a lovely business to be in, who doesn't like hot chocolate?! Bubble wrap is a brilliant way to wrap and protect products, but we often get customer queries about suitable alternatives that save all important packing time. After doing some calculations based on your current use, and assuming you pay around £20 per roll I've worked out you could save £699 by switching to an air cushion system such as the Kite Mini Air, as well as time.
The Mini Air produces around 7 metres of air cushions per minute and each cushion has a perforated edge so that it can be torn off one by one, no more messing around with measuring and scissors. I would suggest using the quilted air cushion material, which is similar to bubble wrap and ideal for small, fragile products such as yours. The material will also take up much less space in your pack operation than bubble wrap, ideal if you are a small business. Our air cushion machine is the cheapest on the market and incredibly easy to use, simply fix the roll of film to the roller pin, insert the air valve in the film opening and start the air flow using the controls to produce reams of air cushions.
You can compare prices for yourself, and watch product demonstration videos by heading to the Mini Air product page.
Happy Chocolatier-ing! - The Packaging Doctor
Note: All the packaging problems our doctor receives are real queries from customers or non-customers.
If you have a packaging problem that needs diagnosing
get in touch on Twitter @kitepackaging
or email packagingdoctor@kitepackaging.co.uk