How To Wrap Large Expensive Items For Transit – The Packaging Doctor
The Surgery Is Now Open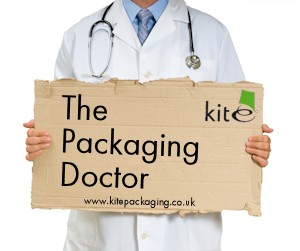 Good Afternoon Doctor,
I run a very niche business, selling mobile laboratories to scientists and businesses that need scientists out on the road. The product costs a lot of money (£500,000) and is very large, so I need a pallet wrap that will protect it in transit - the dimensions of the product is 14m x 4m x 4m.
Thanks, Adrian
Hi Adrian,
After looking at the spec for your product and considering its high value I would advise that standard pallet wrap probably isn't the most suitable option. Pallet wrap is a popular product, and has many benefits particularly in terms of keeping large orders together, and protecting boxes from tearing and being damaged in transit. However, I would suggest the best solution for you would be a heat shrink film solution - it is much better for larger single products, and will look much more professional - ideal for such a high value item. For a cost-effective solution I would recommend polythene heat shrink film, as polyolefin and PVC are more suited to retail facing products. These rolls have a full width of 2.4m and come on a 75m roll, my suggestion would be to use 2x15m strips to lay on the roof (giving a little overlap on all sides), then you will need to wrap around all 4 sides twice to give a full covering.
You will also need a pallet shrink gun to apply the wrap, the one I would recommend is the ripack gun, a relatively easy product to use with enhanced safety features to prevent overheating. The cable on the gun is 8m long so you may want to look at a gas cylinder trolley as with the size of your product, you will need to be able to move the heat gun and gas cylinder around the product when applying heat to the shrink wrap. This is not necessary but you may find it makes the job a little easier.
I hope you have found this diagnosis helpful, if you ever have any problems with the shrink wrap or gun please do contact the Kite team - also please take a look at this product demonstration video which shows you how to use the shrink wrap gun correctly.
Best Wishes, The Packaging Doctor

Note: All the packaging problems our doctor receives are real queries from customers or non-customers.
If you have a packaging problem that needs diagnosing
get in touch on Twitter @kitepackaging
or email packagingdoctor@kitepackaging.co.uk