Improve Efficiency with a Carton Sealing Machine
It's not just packaging materials such as cardboard boxes, bubble wrap, tape and stretch film that we sell, Kite can also provide the machinery that makes your packing operation more efficient.
Taping Boxes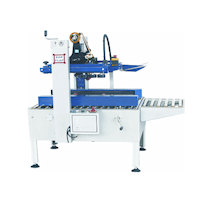 Take our Carton Sealing Machine - this large industrial machine is used to automatically tape the top and bottom of boxes, making it ideal for busy and continuous packing operations. The popular box sealer can create significant savings for your business in busy packing areas as it will seal up to 30 boxes per minute, reducing both time and labour costs.
Using a corrugated carton sealer can also improve the security and presentation of your packaging, as it ensures a crisp, even seal of the highest quality, with no uneven lines of tape or fingerprints.
Taping machines are not only efficient, but can also be easy to use. Kite's machine uses adjustable top guides and adjustable tape tension to enable the operator to quickly and easily seal a wide range of carton sizes. It is also fully CE and 2006/42/EC conforming to ensure safe operation.
Tape supplies
We also stock clear polypropylene machine packaging tape, sold in rolls of 6 or 12, that is suitable for use with all types of carton sealing machines. At 990m in length, one roll of machine tape can be used to seal hundreds of cartons, making it extremely cost efficient. Ideally suited for continual taping operations and featuring a strong hot melt adhesive, this tape will adhere to all types of paper and card.
Contact us today to find out more!