Industrial Packaging Solutions for Elevators and Lifts – The Packaging Doctor
For some retailers shipping packages international shipping is an essential part of their business, and contributes to a significant proportion of their revenue. It is therefore critical that they get this right first time, and every time, to avoid costly damages occurring via transit.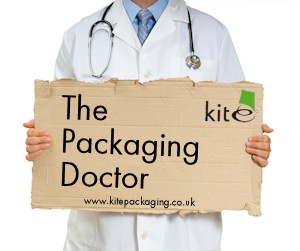 Whilst in a typical retail environment, dealing with high volumes of smaller product, this can be simplified with a strategic logistics plan; it is often the bulky one-off shipments that can cause complications in terms of packaging. Luckily industrial packaging lies in the very heart of what we do here at Kite, specifically in developing effective packaging solutions for products susceptible to damage and developing supply chain packaging in order to streamline the pick, pack and dispatch process.
Today in the surgery we explore a lift/elevator manufacturer who is shipping a personal lift to a customer all the way over in India! Read below to find out how I helped prescribe a dose of packaging advice to this patient...

Hi Doctor,
I manage a lifts and elevator manufacturing business in the UK. One of our customers requires us to export a personal lift from our warehouse over to India.
The lift weighs in excess of 50kgs, so the packaging needs to be able to withstand this. We are hoping to start exporting more of our products abroad so ideally we are looking for a long term packaging solution.
What would you recommend?
Thanks,
Simon
Hi Simon,
Thanks for your question. Finding the most ideal packaging solution for transporting parcels across the world is a challenge I always enjoy!
I would firstly recommend using our extra heavy duty cardboard boxes.  These are our strongest and sturdiest corrugated boxes, available in a range of sizes, and are designed especially for heavy items. As a popular alternative to triple wall boxes, this style of box is ideal for exporting machinery and fragile items, whilst offering maximum protection. Our largest box, the XHD10, has dimensions of 47 x 24 x 24 inches and a maximum load of 472 kgf, I would imagine this would be ideal for your product.
We then need to consider void fill. This is essential in this packaging solution, as we need to ensure that the lift is cushioned whilst in transit to protect it against damages.
As an investment, our Kite Mini Air would be ideal. The machine produces air cushions on demand and is a great alternative to loose fill, bubble wrap and other packaging materials. The Mini Air is our best value void fill solution for a long term investment and is cost effective, space saving and versatile. The air cushions are also incredibly difficult to burst as they are made from a co-extruded material, and therefore are ideal for heavy items as they can withstand heavy loads without deflating.
Finally, finish the box with some of our printed 'FRAGILE' tape. This high quality tape is printed in red text on white polypropylene. It is an attention grabbing product that will effectively inform handlers of your package contents during its journey to India.
And there you have it, a perfect packaging solution for heavy items being shipped abroad.
Best wishes,
The Packaging Doctor
Note: All the packaging problems our doctor receives are real queries from customers or non-customers.
If you have a packaging problem that needs diagnosing get in touch on Twitter @kitepackaging or email packagingdoctor@kitepackaging.co.uk