Kite Packaging launch price competitive cordless friction weld tool
Kite Packaging launch price competitive cordless friction weld tool
The friction weld tool is a low cost, high quality addition to Kite Packaging's range
Not only does effective load securing prevent goods from falling onto roads causing danger, it also prevents companies from losing money due to damaged goods. The responsibility falls to the company securing their load and if anything happens, they will be held liable.
As one of the UK's leading packaging distributors, Kite Packaging understand the importance of load stability and the importance of ensuring pallets are safe for transit and storage. Kite Packaging has recently expanded their existing range by introducing their new high quality, low cost friction weld tool.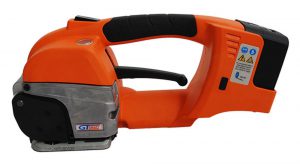 The process of strapping (also often referred to as 'bundling' or 'banding') is most commonly implemented within the packaging industry. A strapping tool is used to wrap polyester (PET) or polypropylene strapping around a product or container to seal, reinforce and/or fasten, for increased security and protection whilst pallets are in transit or storage.
All of Kite's models are fully mobile due to being cordless and powered by a rechargeable battery.
For more information on Kite Packaging and their products and services, please visit www.kitepackaging.co.uk.