Kite Packaging Portsmouth donates £1000 to Rowans Hospice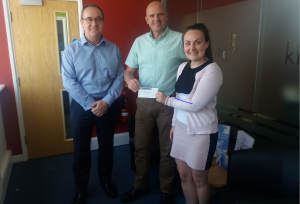 Employee-owned UK packaging supplier, Kite Packaging's Regional Distribution Centre in Portsmouth has chosen Rowans Hospice as its nominated charity to support and donate to in 2018. Kite believes that a sense of partnership should be at the heart of every good relationship.
Rowans Hospice is an incredible charity which aims to provide hospice care expertise in all settings by working with the NHS, other partners and local community to help people cope with life-limiting illness, death and bereavement.
That's why its Portsmouth centre is delighted to be able to help assist Rowans Hospice with the amazing work they do. A spokesperson for the hospice said: "We were delighted that the South Coast team had chosen to make a donation to The Rowan's Hospice for the second time in recent years."
Rowans Hospice sets out with a clear mission of honouring life by providing the highest quality of specialist end of life care, guiding and supporting patients and those closest them through the journey of their illnesses every step of the way.
For more information about the incredible work Rowans Hospice does, visit https://www.rowanshospice.co.uk/ or for more information about Kite Packaging visit www.kitepackaging.co.uk.