Kite Provide Fresh Take On Packaging
Packaging Innovations Exhibition Review
Last month the Kite Packaging team were busy preparing for this year's Packaging Innovations Exhibition, which was held at the NEC on the 27th and 28th of February.
The exhibition gave us a fantastic opportunity to invite prospective customers to take a fresh look at their packaging requirements, after finding that many companies simply reorder packaging without considering how it is being used, and whether it is the most suitable option.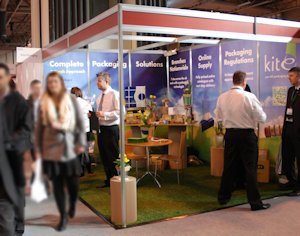 At this year's show we were encouraging our customers to take part in one of our packaging audits, enabling companies to review their packaging in order to deliver maximum savings for a new financial year. The 2 days were a great success and we have entered into discussions with several companies throughout the UK across a number of different industries.
£1 million of savings
At Kite Packaging we are passionate about ensuring our customers get the best value for money and the most suitable packaging solutions for their needs. Many businesses we spoke to could benefit significantly from reducing the number of packaging lines they use or redesigning packaging to reduce the weight and cost - both options they might not have considered before.
We are delighted to announce that in the last year, Kite has delivered over £1 million of savings to customers.
Packaging Innovations continues to one of our preferred exhibitions and working with the Easyfairs team is always a pleasure, we have already booked into Packaging Innovations Islington in October 2013 - we hope to see you there!