Kite's Swindon Branch Sponsor Fun Day
Our Swindon branch was a proud sponsor of Sun Chemicals Fun Day on the weekend of 29th July.
The event was for staff and their families, to boost morale and integration across the site. The day consisted of lots of fun activities for the families to get involved in and Kites sponsorship contributed to the running of the cake stalls, bouncy castle, demolition ball and face painting.
It was also a great opportunity for local charities to go along and raise awareness on what they do. Four local charities went along to the event:
Genesis: A charity supporting the homeless.
Swallow: A charity supporting adults with learning difficulties.
Time is precious: A charity to help create a more comfortable and relaxed atmosphere for children and their families in hospital.
We hear you: A charity offering counselling to those affected by cancer.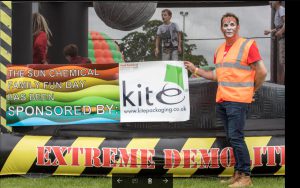 For more information on Kite Packaging and their goods and services visit www.kitepackaging.co.uk.