Packaging Doctor – How To Pack Bespoke Horse Accessories
Our number one commitment is to provide our customers great quality and value products. However, we also work hard to regularly share our knowledge, on how to make the most of our products through video demonstrations on our website, and tips via our blog.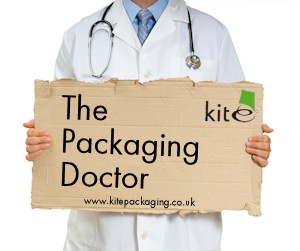 We all know the saying that small changes can make a huge difference, and at Kite we are big believers of that. It's proven that by swapping your ritual afternoon can of fizzy pop to a glass of water, we can make a significant difference to our waist lines, but how does this relate to packaging? It's simple. The smallest of changes in your operation, such as swapping from Loose Fill Chips to Mini Air Cushions, can save time and money, and improve your whole working operation. So why not give it a try?
Today in the surgery we met an online equestrian retailer who is after a new, efficient packing solution for her customised bridle bands. Read below how I helped get her business back up and running in no time…

Hi Doctor,
I run an online business, supplying bespoke leather bridle work for horse lovers all over the UK.
We specialise in customised nose brows and head collars. From diamonds to sequins, we design and manufacturer them. Our products are expensive to make, averaging around £100 per item, and as a result, so are our current packaging methods!
We wrap our products in bubble wrap and send out in a box; however the postage charges are costing us a fortune! There must be a better packaging solution around – what would you recommend?
Thanks,
Michael
Hi Michael,
Thanks for your question in the surgery today. There most certainly is a better solution in the market, and I have one that will sort you out in naaay- time.
Take a look at our Book Wrap Mailers. These are an affordable and versatile product, which are popular amongst my retail patients, and perfect for your bridle work.
Sold flat packed, the mailers act as a cardboard wrap-around box that not only look presentable, they are also incredibly strong and secure.
They are so easy to use. Simply curve your products, to create a complete circle, and place inside of the mailer. Fold the sides of the box, and use the peel and seal strips to secure the package. The mailers are multi scored, which means the box will snugly wrap around the bridle wear, protecting them ready for shipping.
The use of book wrap mailers will instantly save you money. Void fill is no longer required, reducing pack sizes, and our mailers are PIP compliant. This means they easily meet small parcel criteria when set at their maximum height, and you are saving significant costs on postage.
What's even better about this product, is that the boxes have a presentable finish with enough space to add your company logo using our customised tape, complimenting the quality of your bridle work and promoting your brand.
That's all there is to it. Hope this helps!
Best wishes,
The Packaging Doctor
Please Note: All the packaging problems our doctor receives are real queries from customers or non-customers.
If you have a packaging problem that needs diagnosing get in touch on Twitter @kitepackaging or email packagingdoctor@kitepackaging.co.uk