Packaging For… Fashion – Part Two
Friday's Industry Tips
Hi All,
It's the end of the week and therefore time for us to wrap up another 'Packaging For.' blog post, with the second part of our fashion focused packaging tips. Last week we looked at distribution and logistics, and which packaging products help in these areas. Fashion is a fast-paced industry and therefore requires the most fit-to-purpose packaging products to send items from warehouse to store in the quickest way possible. We hope the products we selected were useful to you as a clothing retailer.
We established last week that one of the fashion industry's key needs was that even when you sell low priced items the quality and presentation is still a top consideration. This is because of the items 'perceived value', in that buying clothes is a very personal thing, and the customer has usually spent time deciding on something that's perfect for their needs. They expect it to be packaged and presented to them in a way that makes them excited about the purchase arriving. This is particularly important for online retailers, who need to build a personal relationship with their customers via an online platform.
If you work in the fashion industry or have just started your fashion business we'd love to hear your views on this post. Let us know what you think and fire any questions you have at us on Twitter - @kitepackaging
Packaging Solutions for the Fashion Industry
In today's post we'll be running through the best products for presenting clothing and similar items effectively whilst still maintaining a low cost. Many businesses, even small start-ups such as e-Bay sellers like to have their own stamp on products they send out, again due to clothing being a 'personal' purchase. See below for our top products for creating a presentable package.
Postal Boxes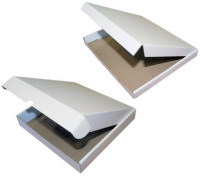 Postal boxes are particularly useful for sending out more luxurious products, we looked at mailing bags last week which are largely be used by the e-commerce arm of high-street stores and purse-friendly sites such as Miss Guided or BooHoo. However if you've ever been lucky enough to order from a premium site such as Net-A-Porter you'll notice far more detail is put in to the packaging and it is often of higher quality. However postal boxes, particularly white ones which offer a much more professional appearance, are not as expensive as you might expect and many smaller retailers are beginning to use them. The benefit of using postal boxes is that items can be arranged in a specific way so that you know exactly what the customer will see when the box is opened. They also offer a much more exciting opening experience for the customer.
Our white postal boxes are incredibly secure as they offer both a tuck in flap style of box and pizza style boxes - both which interlock to prevent items from falling out. White postal boxes are brilliant for luxurious products, and also add a little something extra if you are trying to establish a start-up venture. There is currently a number of UK fashion blogs, all which are just as popular as fashion magazines, the writers regularly review items from retailers and the packaging is usually the first thing they photograph. The boxes have a matte finish for a premium look and labels or writing can easily be applied to them to customise. What's more, these postal boxes have been specifically designed to meet the Royal Mail pricing in proportion guidelines so that if you are a start-up you don't need to worry about going to the post office to make deliveries, these boxes can simply be slid in to an ordinary post box (just make sure you have the right stamps!)
Tissue Paper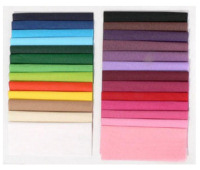 Tissue paper is a great integral product to use with the boxes and is a key product related to the fashion industry as it protects from dirt and moisture reducing the need to use unnecessary protective packaging such as bubble wrap. From a branding perspective, tissue paper can be used to create a brand identity for your shop by matching the colours you're your logo. It is effective for all types of clothing retail, including online and in stores or boutiques. You can use as much or as little as you like, we would recommend one sheet at the bottom and one piece at the top of your package to create a presentable pack.
The main concern that regards tissue paper is the tendency to run. Our tissue paper is acid free and bleed resistant so you can package products safely without worrying about the colours running on to clothes or chemical damage. Tissue paper also requires little warehouse space which is handy when your business has just started or the space is used predominantly for goods.
Custom Printed Tape

Another brand-builder is custom printed tape, we have created a system that allows you to upload your artwork (logo, website URL, image) and transfer the design to tape entirely online. This tape is made from strong, white polypropylene material (with a PVC option also available) which provides a high clarity for your design. You can simply upload your chosen design on the website and generate a PDF proof of your unique tape design, emailed straight to you. In terms of fashion, custom print tape is also useful for shipping purposes particularly if you operate multi-site deliveries using a third party carrier - to ensure all your stock gets out to your stores you can seal all the boxes using the tape to make it instantly recognisable.
This is a cheap and effective way of getting your logo design out to the wider marketplace without having to invest in a completely bespoke solution. It also has a relatively short lead time of 10-15 days once ordered, which means you can leave ordering until two weeks before to make sure you receive it on time.
Silica Gel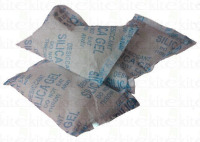 Silica gel is a product that is typically associated with the fashion industry, and mostly used inside handbags and shoes to soak up moisture. Silica gel pouches are very small paper packets designed to attract and absorb any water or dampness. For the clothing industry silica gel is important because clothes and bags need to be kept completely dry, if not they can be instantly ruined, creased or if in storage have a damp smell that means they can't be resold.
Silica gel is a highly concentrated desiccant and therefore we recommend 5 grams of silica gel per cubic foot of volume.
Next Week.
Join us for a brand new focus of the 'Packaging For.' series next week where we'll be looking at the Food industry and their key needs including making the most of shelf space, ideal for our supermarket industry readers. Don't forget to join us on Monday as well for another round with the Packaging Doctor. As always, have a fantastic weekend!