Packaging Large Amounts Of Fabric – The Packaging Doctor
The Surgery Is Now Open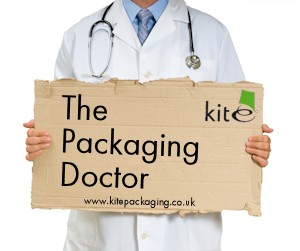 Dear Packaging Doctor
My business is in the very early stages at the moment, and I am currently just setting up my website. It is a textile business and will supply a number of different fabrics to the craft and home interiors industry. One of the products I will be selling is oilcloth fabric, which is a cotton or canvas material which is coated in a waterproof layer so that it can be wipe-cleaned. It can be a little bulky when folded, especially in large quantities. What would be best to package this type of product?
Thanks, Callum
Hi Callum,
An interesting business indeed, oilcloth is a very popular product in the home market – especially as modern technology has allowed it to be beautifully decorated as well as easy to clean which is great for mums with small children or customers who regularly make their own cakes and preserves – an often messy process!
I can imagine that if large quantities are ordered as well as being bulky it is often quite heavy as well so you'll need something that can take the weight in transit. My first suggestion would be to use a heavy duty mailing bag. These are co-extruded which means they are extra tough, and offer excellent tear resistance. We offer three different sizes of these bags, with the small and medium sizes 75 micron thick and the large size 65 micron. I would suggest the 250 x 425 mm to start with, and ordering a smaller batch of the larger 485 x 870 mm for larger orders.
If you would prefer to use a box, the white postal boxes we sell are best for flat objects such as fabric. They are highly presentable, with a clean white finish, come in various sizes and the height is adjustable which make them a versatile product for different quantities of fabric shipped. They offer increased protection from standard bags and as your business is starting out can be customised with printed tape to promote your brand.
Hope that helps!
Best Wishes, The Packaging Doctor

Note: All the packaging problems our doctor receives are real queries from customers or non-customers.
If you have a packaging problem that needs diagnosing
get in touch on Twitter @kitepackaging
or email packagingdoctor@kitepackaging.co.uk