Packaging Material For Filling Handbags – The Packaging Doctor
Retail packaging comes in various formats, perhaps one of the largest methods is huge display stands designed for POS (point of sale) which are kept in line with the actual product branding to ensure it catches the customers eye. Other forms include carrier bags to advertise stores, and shelf ready packs that can be taken from pallet to store with little or no handling to increase throughput. But what of the smaller shops? What of the little bits and bobs that give products that extra something?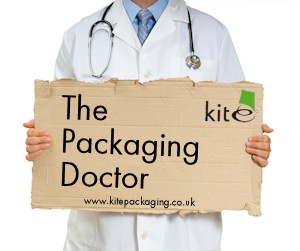 In-store displays are the bread and butter of most high street and designer retailers, and competition is fierce. In order to stand out displays need to be eye-catching, colourful and most importantly easy to browse to encourage purchasing. Today's patient has a very typical question of a leather goods retailer, and brings up the importance of planning your packing process from manufacture to display.
Find out what happened in the surgery today below – and as always feel free to send your own packaging questions to me at any time (contact details at the end of the post).
Dear Doctor,
I design and sell a bespoke range of handbags and suitcases and after selling these online for the past four years I am very fortunate to have now signed a contract with a large department store.
My concern is that I want my bags to be displayed as being eye catching to the shopper. I want my range to look "plump"; giving a realistic guide of what the bag will look like once the buyer has added their personal items.
What would you advise to plump up the bags, ensuring that the material isn't stretched or damaged?
Thanks, Thomas.
Hi Thomas,
Thanks for your question.
Firstly, congratulations on the success of your handbags and suitcase company! I have got the perfect solution for you and one that is commonly used by our customers here at Kite in the world of retail.
I would recommend our Mini Air Machine. This is a new exciting air cushion packing system which is highly versatile and easy to use; perfect for void fill, wrapping, interleaving and more.
Along with the Mini Air Machine I would recommend our filler cushions, available in a range of sizes suitable for the small clutch bags right through to a family sized suitcase.
Through the use of the Mini Air and the cushions your range will be "plumped" and visually attractive for your customers, whilst protecting the material and natural shape of the bags.
You can also find a guide of our Mini Air Machine and cushions on our website with user friendly videos and demonstrations outlining how to use the machines here. 
Hope this helps,
Best wishes,
The Packaging Doctor
Note: All the packaging problems our doctor receives are real queries from customers or non-customers.
If you have a packaging problem that needs diagnosing get in touch on Twitter@kitepackaging or email packagingdoctor@kitepackaging.co.uk