Packing and Storing Fertilizer – The Packaging Doctor
You may have noticed it has been a little quiet in the Packaging Surgery recently, but don't worry I haven't jumped ship! I've been busy putting together patients notes into order – and now if you click on my category page you'll see all the questions I have been asked in a neat little list, I think this helps you find a question more easily – and means you may already have an answer to some tricky packaging questions. Today we're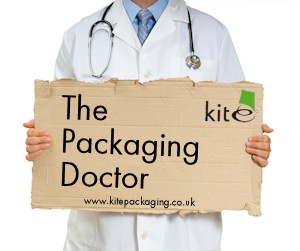 talking about fertilizer – definitely not the most glamorous product in the world, but usually messy or oddly shaped items are the most difficult to pack. Read on to find out how we solved this particular query.
In other news a ton of stuff has been happening at Kite, we were delighted to see so many people attend MACH 2014 at the beginning of the month, and saw some impressive machines whilst showcasing our own innovation – Kite Wrap & Hold. We also opened our brand new Midlands offices, saw some great coverage about the Kite Air Shock and most recently launched coloured mailing bags – a great new product for e-commerce businesses.
Let's welcome our next patient!
Dear Packaging Doctor,
I run a local stable which does well offering horse riding lessons to all ages and renting stables for people to keep their own horses. At the stables we also run a small shop which sells hay and equipment – amongst these products we also sell 'homemade' fertilizer which is quite simply horse manure that has been stored over time.
Now, I'm all for environmentally-friendly packaging solutions but when storing horse manure bio-degradable bags just don't do the job – the manure affects the bags and they waste away, especially as these bags need to be stored for a number of months. Do you have any suggestions?
Thanks, Christie
Hi Christie,
I think it's wonderful that you are using a resource that is often seen as the worst part of stable owning into a business venture, manure is one of the best fertilizers around and I'm sure you will see business booming in no time.
Bio-degradable packaging is a constant problem for businesses that require packaging not as a consumable but as a storing method for items that need to be left over time. However, they are not the only solutions available. Our heavy duty polythene bags are non-bio-degradable and incredibly strong, manufactured from 100 micron (400 gauge) thick polythene and available in a range of sizes – I would recommend our biggest size (36 x 48 inch) bag for your particular use.
These bags will last for a very long time and are perfect for storing fertilizer, as well as selling it. They can also be heat-sealed which is an ideal method for securing the bag and ensuring the pungent smells are kept at bay. You can also use these bags for other items, such as hay as it is another messy product that is difficult to store and sell easily.
Best Wishes,
The Packaging Doctor
Note: All the packaging problems our doctor receives are real queries from customers or non-customers.
If you have a packaging problem that needs diagnosing get in touch on Twitter @kitepackaging or email packagingdoctor@kitepackaging.co.uk