Presentation Packaging For Gift And Business Cards – The Packaging Doctor
The Surgery Is Now Open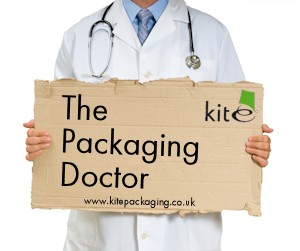 Hi Packaging Doctor,
I have started a new business which embraces the old-fashioned values of dating combined with online match-making, in which customers can order special contact cards to give to prospective matches. I will be shipping these plastic cards, which are business card size (85.5mm by 5.54mm) in quantities per order of either 5 cards or 30 cards.
The total initial orders are estimated for 2,500 in January, a number which I hope to exceed or at the very least meet. Each of the orders of 5 or 30 will be wrapped in tissue paper and wanted to ask how much tissue paper do you think I need to order and what would the cost be? I was interested in the red shades that you do, particularly the cerise.
Best Wishes, Christopher
Hi Christopher,
Sounds like a very interesting business! Looking forward to seeing how the concept takes off, particularly with such a huge number of dating sites around these days. For your cards I have done some rough calculations – the tissue paper we supply has the dimensions of approximately 50 cm x 75 cm per sheet and therefore based on your measurements you would be able to wrap a batch of 5 or 30 cards easily using a quarter of a sheet (or one sheet would wrap 4 batches of either quantity).
Our tissue comes in packs of 480 sheets and therefore one pack of tissue would wrap 1,920 batches of cards, I would recommend buying 2 packs which will provide enough tissue for 3,840 batches. However if you wanted the wrapping to be less transparent, wrap your items around twice using half a sheet of tissue and therefore 3 packs would provide enough tissue for 2,880 batches. The red, and the cerise tissue are only £14.45 per pack and we offer a next day delivery service so you can get stock in urgently if your business really takes off.
Best of Luck, The Packaging Doctor

Note: All the packaging problems our doctor receives are real queries from customers or non-customers.
If you have a packaging problem that needs diagnosing
get in touch on Twitter @kitepackaging
or email packagingdoctor@kitepackaging.co.uk