Presentation Packaging For Posting Large Goods – The Packaging Doctor
The Surgery Is Now Open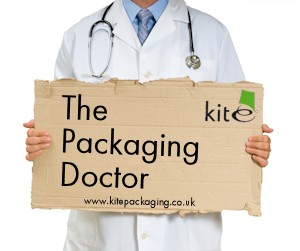 Dear Packaging Doctor,
I am setting up my own business selling bespoke wooden wedding signs. The signs are about 4 foot long and 32" in width. They will be sent to my customer via courier, so I need something that is protective but also looks presentable. What kind of packaging would be most suitable?
Thanks, Beth
Morning Beth,
I would suggest wrapping your product in our corrugated paper first. It is versatile enough to be wrapped around irregular shaped objects and the 5mm raised fluting will offer padding and protection. For presentation, you can then wrap your product in our 90gsm Pure Kraft paper. The Kraft paper rolls not only look great but they are suitable for heavy duty use as they offer ample strength and tear resistance. These materials are lightweight, saving you money on delivery cost, and very economical to purchase.
I hope this was the solution you were looking for, and a time as well as cost effective result as you come in to your busy season.
Best Wishes, The Packaging Doctor

Note: All the packaging problems our doctor receives are real queries from customers or non-customers.
If you have a packaging problem that needs diagnosing
get in touch on Twitter @kitepackaging
or email packagingdoctor@kitepackaging.co.uk