Protecting Car Seats From Mud – The Packaging Doctor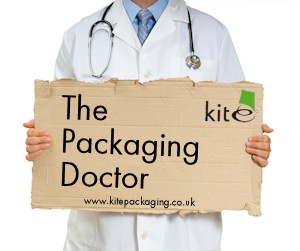 Today's packaging surgery welcomes an interesting query and something that may be incredibly useful for future reference. Obstacle courses and muddy runs have become increasingly popular over the years, and give an extra fun element to typical 10K runs so that more people can take part and raise money for a special cause. Pretty Muddy, Wolf Run, X Runner, Total Warrior and Mudstacle are all obstacle courses of varying difficulty that involve mud covered obstacles and tests of physical and mental stamina. They are brilliant fun and a great way to do something different for a charitable cause.
Kite has also jumped aboard this trend, and gathered a team of people to run the Autumn Wolf Run – a tough 10K obstacle course that specialises in 'natural' obstacles such as rivers and fallen trees to climb over. Our Kite team hail from our Coventry branch and will be raising money for Zoe's Place, a wonderful charity and the only baby specific hospices in the UK, and Macmillan Cancer Support who provide valuable services to those suffering with cancer. We wish them the very best of luck this weekend.
Of course, as many of the event names suggest, these types of obstacle courses do involve you getting very muddy, and if you have a lovely clean car you don't want ruined how do you protect it? My next patient asked the very same question, read on to find out my diagnosis.
Dear Packaging Doctor,
I have a slightly odd query for you. 
I am part of a team of people shortly taking part in a mud run for charity, which I'm really looking forward to.  As the apparent team leader I have volunteered to give some of the team a lift.
However, I have a company car…and my boss is very insistent that it stays clean.  Unfortunately whilst there are showers at the event, and I am planning to change clothes before driving home, I am concerned that my seats and mats will end up very wet and muddy (rather like the team and I).
Would you be able to recommend anything to help keep things clean?
Regards,
Ruth
Hi Ruth,
Thanks for your question, great to hear that you have gathered a team to compete with you – I wish you the very best of luck!
Seats in a car are difficult to protect because they are attached to the vehicle, so can't be removed to wrap material around them. However I would suggest using our polythene furniture bags for your seats, these are ideal for your car as they are available for 1 seater, 2 seater and 3 seater sofas which translate well to a vehicle. You can use the 1 seater bags for the driver and passenger seats and the 3 seater bag to lie across the back seat, tucking in to the edges so that it is secure. The great thing about these bags is that they are made from incredibly strong polythene (280 – 340 gauge) and therefore can withstand movement and people clambering in muddy shoes without tearing.
For your mats and flooring I would suggest something similarly thick and heavy such as our polythene sheeting, the medium duty would be most suitable and can simply be cut to size and laid on the floor of your car to avoid damage. Polythene is water resistant so it doesn't matter how wet you are – it won't leak through to your pristine mats!
So there you have it, happy car and a happy boss – I just hope the weather stays nice for you.
Best wishes,
The Packaging Doctor
Note: All the packaging problems our doctor receives are real queries from customers or non-customers.
If you have a packaging problem that needs diagnosing get in touch on Twitter @kitepackaging or email packagingdoctor@kitepackaging.co.uk