How To Make Cardboard Hangers – The Packaging Doctor
Packaging is the foundation to many business and is something we are surrounded by every day. It is important that companies take time to consider their packaging and understand if it is working for them.
Not all products are suited to the same packaging requirements, and if done correct companies can save money, space and waste. Packaging innovations are constantly evolving so staying up to date is key.
Today in the surgery we meet the owner of a new business looking for cost effective cardboard hangers.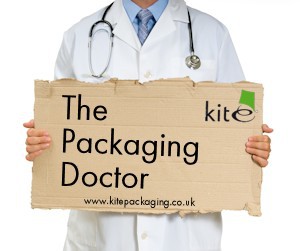 Dear Doctor,
I am in the process of setting up my business and want to keep costs as low as possible. I require Cardboard Hangers and already have the stencil to cut the shapes. I do not require a large quantity for the time being as I just need enough to set up.
I am happy to purchase the hangers already made, or if it can save me money I will happily look at other alternatives. I am also looking for something to hang clean clothes in, to keep them protected.
Thank you
Eze
Hi Eze
Thank you for your question. We love it when we can get creative and look at alternative sources as opposed to the already made product.
Here at Kite we do offer bespoke packaging, however for the small quantity you require and because you already have the stencil, I would suggest purchasing our A4 Single Wall Corrugated Sheets, they are inexpensive and durable ensuring to be the ideal solution for you.
In order to protect clean clothes, I would suggest purchasing our Light Duty Polythene Bags they are ideal for protecting contents from dust, dirt and moisture and are available in array of sizes to suit all requirements.
We hope this helps!
Best wishes
The Packaging Doctor
Note: All the packaging problems our doctor receives are real queries from customers or non-customers.
If you have a packaging problem that needs diagnosing get in touch on Twitter@kitepackaging or email packagingdoctor@kitepackaging.co.uk