Packaging For A Light Specialist Company – The Packaging Doctor
Here at Kite we know that every packaging problem has a solution and we are on hand to give you the best solutions suited to your requirements. Remember we are experts in what we do and are here to give you advice on how to make your packaging process better. No matter how big or small we have a solution for you.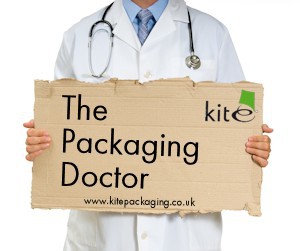 Staying on top of packaging and making small changes to your operation, can save you time and money, so it is vital you review your packaging requirements and seek more innovative ways of doing things.
Today in the surgery we meet a patient who is looking to improve their packing process. Read below to see what I advise.
Hi Doctor,
We are looking to improve our packaging process of many of our mainstream products. We need a shrinking system that shrinks on a larger scale.
We pack different sized products that are no bigger than 500mm wide.
Thanks for your help!
Phil
Hi Phil,
Thanks for your question. Most certainly, I have the perfect solution.
Based on the volume of product produced, I would suggest the AP H20 Shrink Hood Chamber, ideal for smaller products, yet suited to the sizes you have given. This machine is designed to speed up packaging lines by providing both heat shrinking and sealing method in one unit, and will process up to 300 packs per hour. The hood will automatically open after the shrink process has completed.
To use with this machine I would suggest you try Polyolefin Shrink Film and PVC Shrink Film.
Polyolefin Shrink Films contain no plasticisers or chlorine and releases very few odours when sealed. It creates a stronger seal and is not compromised by changes in temperature, making it ideal for a range of different products.
PVC Shrink Films are environmentally friendly with a strong seal and offer excellent clarity, ideal for retail facing products.
We will make sure that this treatment is on-going so that you can try the suggested solutions and make a product choice most relevant to your required circumstances.
We look forward to your feedback,
The Packaging Doctor