How to package glass bottles (without using plastic!)
Perhaps you create unique cocktails or provide complete eatery experiences for your customers, complete with bottles of bubbly. Irrespective of your business's niche, if you sell any bottled products then you will need to carefully consider postal packaging to ensure that everything arrives in one piece.
Kite Packaging is an employee share-owned supplier of industrial packaging, meaning that we all have a vested interest in attaining your full customer satisfaction. Naturally, this includes ensuring that your goods reach your customers in pristine condition, minimising the possibility of returns or refunds hence aiding the growth of your business.
Environmental awareness is also integrated into almost all of our packaging categories with our new products always having an eco-friendly focus. This is to encourage a nationwide shift toward more sustainable methods of transporting and storing goods.
As such, our range of bottle packaging is well saturated with plastic-free, recyclable and biodegradable options to suit the eco-conscious audience of today.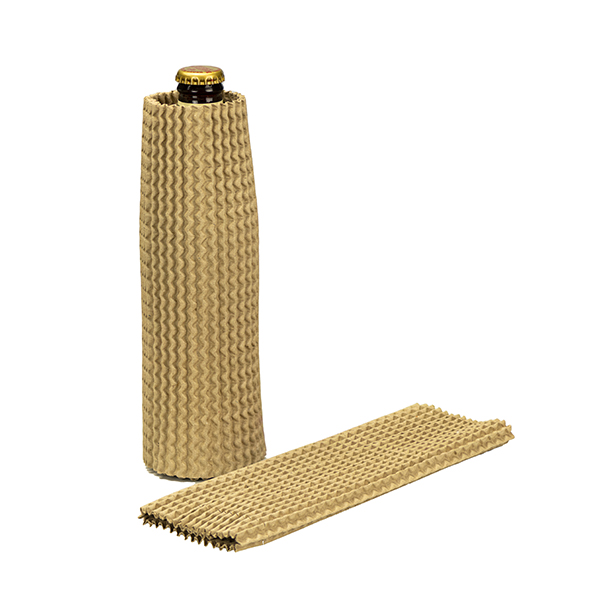 These simple yet effective paper sleeves are plastic-free and fully recyclable while capably protecting a range of products. Due to their popularity, we have recently added a smaller bottle size to the range enabling our customers to package even more items safely and sustainably.
The durable 600gsm is easily expanded, supplying flexibility to adapt to bottles between 65mm – 100mm in diameter. Each size within this range will be closely covered by the sleeve, providing a strong cushioning layer that will shield the contents from any impacts that may otherwise cause damage.
When purchased wholesale, prices per unit become very affordable for this style – even more so when taking advantage of our corrugated bottle sleeves & boxes bundle offer that reduces prices by a further 10%. These single wall outer boxes are available in brown or white and provide a perfect fit for our 300 x 75mm corrugated sleeves with minimal internal movement.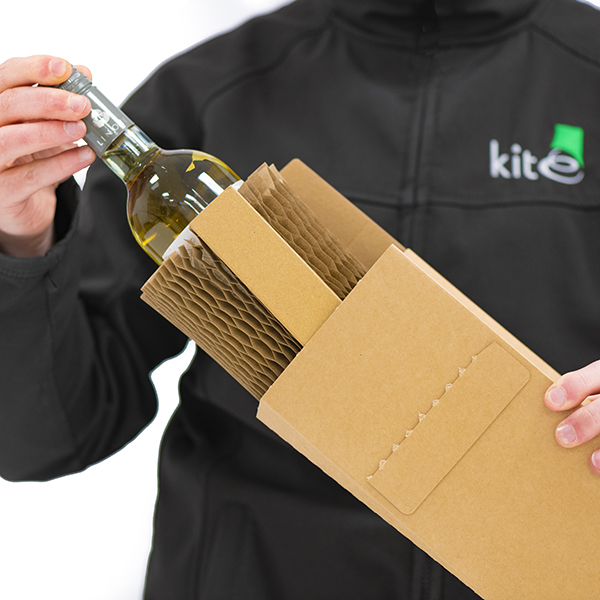 However, if your bottles are particularly expensive or heavy, you may desire a premium solution known for it's dependable protective strength. Our Flexi-Hex sleeves feature a robust layer of expandable hexagonal cells. The hexagon is one of the strongest shapes there is, resolutely holding space between the bottle and any knocks and bumps that could occur in transit. This honeycomb structure mirrors the construction of our bestselling Hivewrap and Hivefill products that offer an eco-friendly alternative to bubble wrap and polystyrene chips, respectively.
The unique sleeving arrives flat but has an impressive width expansion of between 20 – 250mm to closely hug bottles of differing diameters. Similarly, discounted bundles are available including oblong outer boxes or pinch top exterior containers.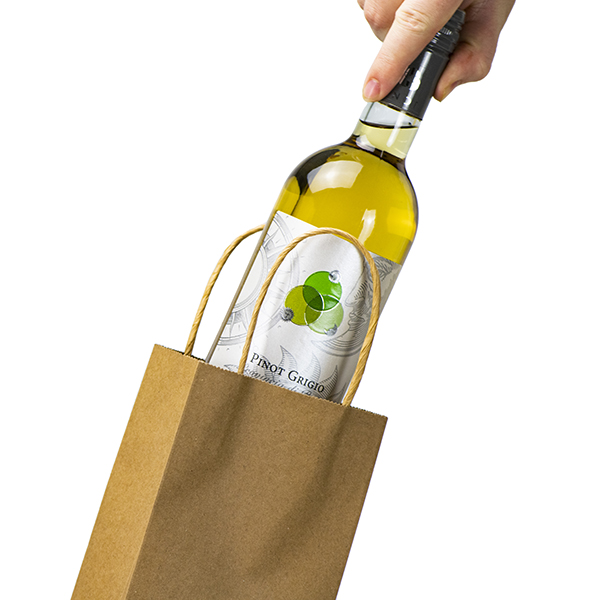 Bottles are often associated with celebration and special occasions. Therefore, if the gift need not be posted and is sold directly from a shop front, then our dedicated wine bottle bags are the excellent white or brown carrier bag. Made from 90% recycled material into a heavy duty 110gsm paper complete with a reinforced base, these slim bags are designed to happily hold the weight of glass bottles.
Elevate your operation further with the addition of coloured tissue paper to gift wrap around the purchase, securing with a small piece of packaging tape. The rolls allow for quick access at customisable lengths while the paper is 100% recyclable and biodegradable with a FSC certification to boot.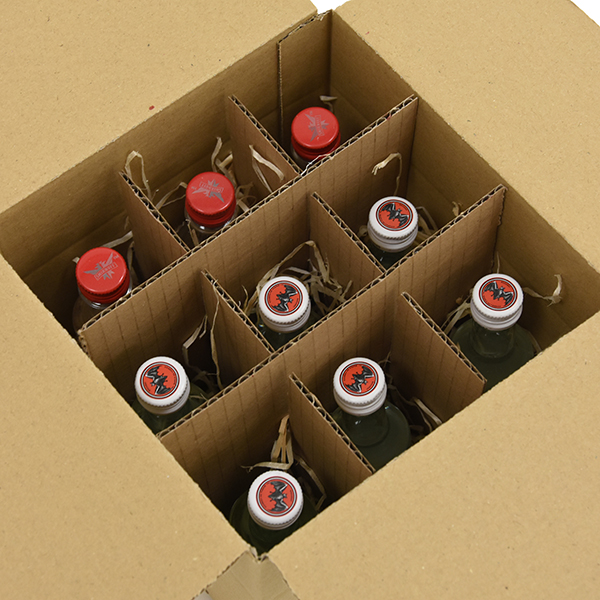 If your business sells bottled goods, it's likely that you will need to send out multiple products at some point whether this is to customers or shops that you supply, for example. To make sure that these products reach their destination safely, Kite have universal dividers and boxes supplied with cardboard partitions already included.
The cardboard dividers have perforations every six inches apart making the solution customisable for your individual products. These corrugated partitions are popular when packaging candles, plant pots and similar items as well as bottles that are of the same size. The objects are prevented from clashing against each other and causing damage in addition to creating an organised storage system.
For a ready-made solution, however, you can shop our wine bottle boxes with cardboard dividers. These are specifically tailored toward transporting and storing 70cl and 75cl bottles and are available as 6 or 12 bottle cartons.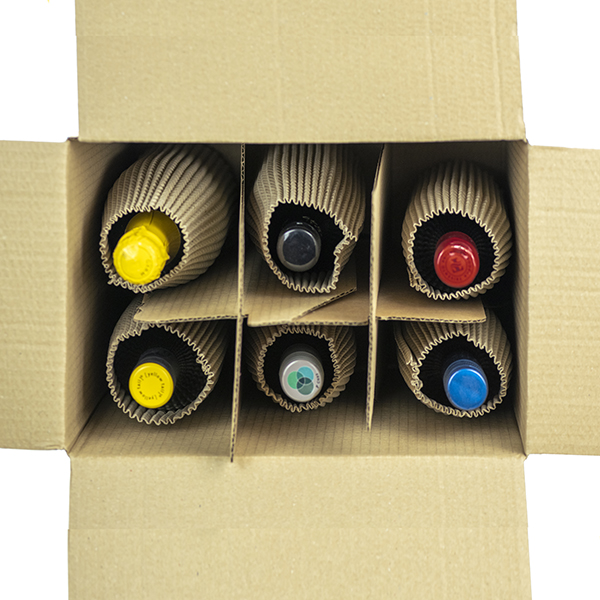 If you are particularly cautious about transporting boxes of heavy or valuable bottles, some cushioning void fill can be used to surround the individual bottles within the partitioned areas.
Of course, our sleeving options can be used creatively in conjunction with many of our other postal packaging products, particularly if you are shipping them with other items. In these instances, Kite supply a vast selection of popular cardboard box sizes with reliable void fill options to prevent movement within a carton. This minimises the opportunity for damage further.
As the largest online UK packaging distributor, we consider ourselves experts when it comes to ecommerce packaging. Should you have any further questions regarding sustainable bottle packaging, or indeed, anything else related to safely shipping or storing your products, do not hesitate to get in touch with the team at 02476 420065.