Cardboard boxes
Whether you are looking to move home, office or sort items for resale or storage, your choice of cardboard box could be more integral to achieving your task than you first thought. As a leading B2B packaging supplier, we use our knowledge, expertise and range of excellent cardboard boxes and other packing products to make life easier for our customers.
Our comprehensive range includes enviro packing boxes, pallet and export boxes, postal boxes and many other unrivaled box solutions, meaning you are certain to find the packaging products to cater to your unique requirements. Whatever your needs, each and every one of our customers will receive free standard delivery (on orders over £100), the very best cardboard packing items at great low prices and fantastic discounts on bulk orders alongside the highest standard of customer service.
Durable, high quality and heavy duty, our products have made packing and moving the items that your company holds dear as stress-free as possible, minimising the risk of unfortunate but common issues like item breakages and other damage. Read on to find out more about how we can assist you in your upcoming packaging purchase and discover the benefits of our products to pinpoint a box type to not just meet but exceed your expectations.
Enviro boxes – protecting packages & the planet
Our Enviro boxes are a popular product in this range thanks to their intelligent design specifically tailored toward sustainability. The recyclable boxes provide ultimate protection through its heavy single duty wall that exhibits strength equivalent to that of a double wall cardboard box. Yet, this reduction in material usage brings about a 30% saving in CO2 emissions when manufacturing this eco-friendly packaging.
Developed in conjunction with the Waste and Resources Action Programme (WRAP), use of enviro boxes has been proven to reduce waste, with cardboard boxes now less prevalent at UK landfill sites.

Pallet & export boxes – your route to effective shipping
Boxes used for shipping and export need to be strong and a compromise on quality will only mean damaged or broken goods will be received at your end destination. With our pallet and export boxes, however, you can find quality boxes and pallet stillages that are built to last and reasonably priced. Our packaging specialists understand what challenges you face when shipping at home or overseas, so our products are designed to address these issues with professionalism and reliability. Bumps, bangs and scrapes are common during shipping and transit, but you don't have to leave your belongings at the mercy of these conditions regardless of whether you are transporting by rail, road, sea or air.

Postal boxes – safe, secure & stress-free
Complete with hinged lids and designed for quick and easy assembly, our postal boxes have all the cardboard packaging features you need to transport goods from A to B safely and securely. Our postal packing boxes are fully compatible with the Royal Mail system.
Our e-commerce boxes meet similar requirements to the postal boxes by being small, reliable carriers of goods. They differ by having the fastest assembly time of all our cardboard boxes thanks to the crash lock base feature. The hinged lid displays goods aesthetically to complete a seamless ecommerce experience for a customer. Modern shoppers are increasingly seeking sustainable packaging alongside rapid delivery times: two factors that the ecommerce boxes serve to satisfy.
Large cardboard boxes
Not only are our range of large cardboard boxes ideal as storage boxes due to the strong quality cardboard they are produced from, but they are also commonly used by a wide range of industries when moving products in transit, such as removals. Hence, this versatile packaging solution is one of our best-selling categories on the website.
Other packaging boxes
It's not just Enviro boxes, pallet and export boxes, and postal boxes that we supply at Kite Packaging. Our range also includes extra heavy duty cardboard boxes, bulk distribution cartons (BDC) and bulk distribution cardboard metric (BDCM), double-walled "handle with care" boxes, bottle boxes, CD, DVD and LP packaging, heavy duty plastic boxes and so much more, to ensure sturdy and reliable solutions for all your packaging needs. We supply a wealth of recyclable packaging to suit most industries, therefore, it is best to get in touch if you are unsure where to start. Our team of experts can recommend products to suit certain dimensions and suggest solutions to even niche problems.

Why is recycled packaging better?
Packaging that has been made from recycled materials has considerably higher green credentials than the same product that has been made from virgin materials. Using recycled content diverts waste from going to landfill by repurposing it, hence reducing the demand for raw materials and conserving our natural resources. By choosing to use recycled packaging for your business, you can actively increase the demand for recycled products, encouraging greater investment into recycling facilities and generally supporting the growth of a circular economy. This will promote significant long-term change for the benefit of our planet. Moreover, unlike with some plastics, cardboard and paper does not weaken upon being recycled; the quality stays largely the same. Therefore, you can embrace eco-friendly packaging without sacrificing the functionality that helps your company to deliver goods in perfect condition every time.
What is recyclable packaging?
For packaging to be labelled as recyclable, it must be able to be widely recycled either kerbside by an end customer or commercially. For a material to qualify as being recyclable, it must be economically viable for a local council which explains the occasional disparity between what items are allowed to be recycled. Cardboard and paper, however, are excellent materials for eco-friendly packaging due to their easy recyclability that makes them accepted almost everywhere.
Can box packaging be recycled?
At Kite, all of our cardboard boxes can be widely recycled kerbside. This increases customer satisfaction with a purchase as cardboard is generally known for its ability to be domestically recycled and therefore has one of the highest recycling rates nationwide. Many of our boxes also comprise recycled content, clearly establishing themselves as sustainable packaging from the start to finish of their life. Using recyclable boxes will boost the environmental credibility of your brand as customers increasingly consider eco-friendly packaging to be a key consideration when making a purchase.
What is the difference between cardboard and corrugated?
The term 'corrugated' relates to the indented texture of certain items. Corrugation can be defined by different flutes as displayed below: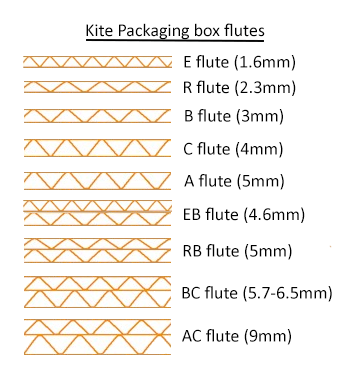 Cardboard is a form of corrugated card. Typically, a single walled cardboard consists of two smooth outer layers while the centre features the corrugated texture illustrated above. Double walled cardboard has two of these structures glued together to provide twice the standard of protection. The corrugated configuration that comprises cardboard offers effective cushioning, making it a lightweight yet durable method of packaging.
What is meant by 'corrugated box'?
So, a corrugated box typically refers to a cardboard box with the corrugated layer as depicted in the diagram above. These lightweight, recyclable containers provide the degree of strength and stability required for countless applications.
What is corrugated packaging used for?
The fluted corrugation texture provides a network of tension and resistance that acts as effective shock absorption while keeping overall pack weight low. This makes the use of cardboard boxes a highly economical option for many businesses. At Kite, we supply a vast range of sizes and styles to cater toward the majority of ecommerce requirements, removal boxes for house moves, storage solutions and arts and crafts purposes.
What is the smallest size cardboard box?
The smallest size cardboard box we offer is 102 x 102 x 102mm. This size is ideal for packaging anything from compact ceramic goods to small tools or manufacturing parts. It is always best to choose the smallest possible box for your product to reduce the internal movement, hence reducing the chance of damages. Moreover, this minimises your outgoing costs.