Our app and customer order portal provide you with functionality that makes so much more sense for you as the customer when ordering your packaging. This service is available to all of our customers!
---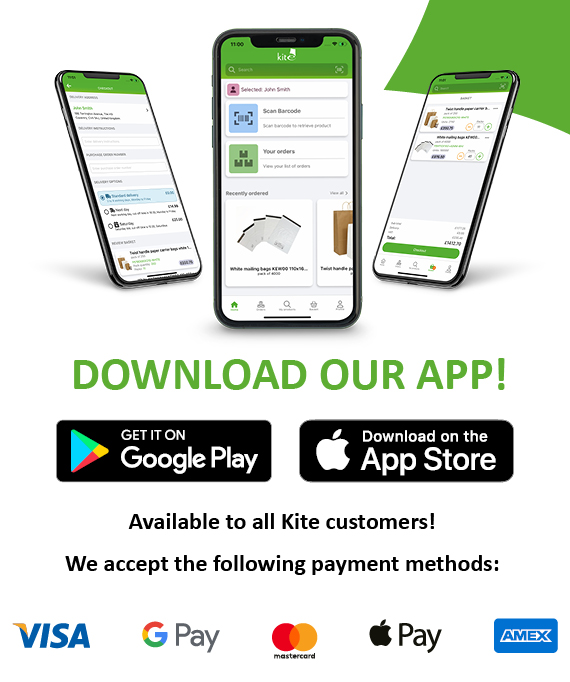 Kite App
Our app is compatible with all mobile devices and is designed to make your experience of purchasing packaging a notably faster and smoother transaction. There is no need to sign up, simply sign in using your existing Kite login credentials to gain access to the app's features. This includes a personalised product section detailing your contracted products and prices, your full order history, a quick scan feature and much more.
In 'Home', a quick scan feature improves the process of searching for products, providing instant results. The scanner reads product barcodes using your device's camera application, yielding the corresponding results in a matter of seconds and aiding significantly faster reordering. You no longer have to trawl through a list of search results to find exactly what you need and the chance of ordering the wrong items by human error is also eliminated.
To use this function, scan barcodes printed on our packaging or print those provided by us in the portal. Once this is done, place your barcodes in your warehouse or the appropriate location and use your mobile device to scan and order away.
Access your full order history in 'Orders' which provides a breakdown of items ordered, their quantities in units and packs, and what you paid for them. Filter by date to aid searching for particular orders.
Delivery details are automatically filled in using the information provided by you in the customer order portal. However, if you need to change these or leave specific instructions regarding the delivery of any order, this can be done when placing it.
If you are a website customer, your recently ordered products and prices will be available to view in your dedicated product section. If you are a bespoke packaging customer, you will be able to view your bespoke products alongside your stock products here. These will be listed at your contracted prices.
In this section, recently ordered items sit at the top and can be filtered by part number and description for easy searching.
The Kite app facilitates secure card payments, embracing the convenience of modern digital payments by supporting both Google and Apple pay. Customers can enjoy swift, seamless transactions using their preferred mobile payment options, ensuring a hassle-free checkout process.
Customers can also manage their payment methods with ease. Whether updating card details or adding new payment options, this feature provides complete control over payment preferences.
---
Kite Customer Order Portal
If you are in the automotive or engineering industry, or require precisely fitted packaging for other purposes, Kite can now achieve industry-leading results in outstanding timeframes.
Akin to our app, our customer order portal also makes managing your packaging requirements much more straightforward. This service is only available to our RDC customers. Your dedicated product section lists your contracted products and prices with a filter system for easy searching. You will also find your very own dedicated Kite contact at the top of this page should you need to get in touch with us.
Some features in the app and portal are designed to work in conjunction with each other. This includes interaction with past orders, including viewing them and using them to reorder. You can also download product barcodes and images here to place in your warehouse and use our app's quick scan feature for effortless scanning and reordering.
Some features are exclusive to the portal, such as requesting proof of delivery and downloading and printing past orders and invoices. A library of useful reports is available on packaging weights, stock, product history, aged stock and account balance to aid better management of your packaging needs.
Rename products so they are easier to recognise and find and set default quantities for products so your stock can be efficiently replenished. These quantities will be set as the default in the app, enabling continuous scanning of products without having to stop to input the amount required.
Add multiple users to the portal to share the responsibility of managing your packaging requirements. Here, you have the ability to grant or restrict their access to different functions depending on your needs.