What is a grip seal bag made from?
These transparent grip seal bags are made from 75 micron polythene that contains 30% recycled material. This degree of thickness grants the bags enough strength to securely carry a range of heavier items with enhanced puncture resistance. The packaging is manufactured from low-density polyethylene to achieve the durability which makes it effective when holding bulkier products.
The grip seal makes the bags resealable and hence, reusable. By closing simply and securely, paired with the inherent strength of the material, they are ideal for repeat use which makes them an economic resource for businesses and individuals.
What can a heavy-duty polythene bag be used for?
Our strong grip seal bags are available in seven different sizes that can cater toward small to larger items. Weighty DIY tools can be contained within the bags in addition to important documents where it is highly important to protect the contents from dust, grime or moisture. The plain clear bags make it easy to quickly identify the products inside while preventing contamination. This increases the hygiene level of items while in storage, being handled on a shop floor or in transit.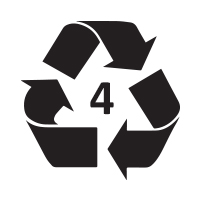 Click here for our recycling guide