7 interior design ideas using wooden pallets
With the rise of social platforms such as Pinterest and Instagram, users are being inspired to look for new, innovative ways to decorate their homes. This influx of modern day interior design has seen an increase in demand for quirky, alternative designs that stand out from the rest. Our organic Wooden Timber Pallets are a popular purchase at Kite – but is anyone actually aware of their creative potential in the avant-garde home?
One defining living room piece that can often make a room is a coffee table - a real focal point on which your favourite centrepiece ornament is displayed or one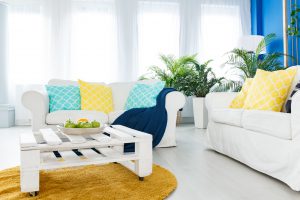 where y
our guest sits their coffee. So by converting a pallet into a homely, characteristic table you can add the perfect finishing touches to your modernistic living room.
Next, we can consider the alternate chair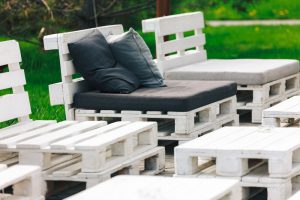 which could be for your bedroom, dining room or conservatory. All you need to do is combine three pallets and place a padded seat cushion on top et voilà, you now have an inviting, contemporary chair in your home – all at low cost.
Following on from the chair idea, large pallets are particularly useful for building a large six seater sofa with infinite leg room whilst keeping costs down. Settees are usually on the pricey side but a pivotal part of home comfort, so by utilising our Wooden Timber Pallets you can create a sofa as large as you desire and the custom build mea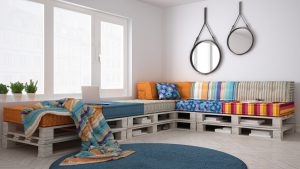 ns it can be designed to fit the exact dimensions of the room. To finish, you can team the pallets with some different coloured padded cushions and cosy blankets to make sure you're ready for that Friday night movie marathon.
Furthermore, going along with the whole comfort sentiment, another bold yet striking feature is a DIY pallet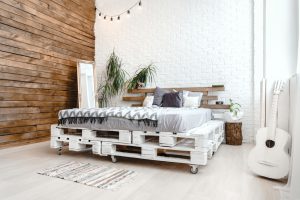 bed. This can also be a real cost saving alternative to your standard, costly bed frame and gives a brightening, fresh feel to a bedroom. With a lick of paint, a colourful sheeted mattress and a wide array of cushions, you can create the ultimate, trend-setting bedroom.
Now, calling all book lovers, it's time you had the ideal, distinctive bookshelf to hold your beloved book collection. A DIY pallet bookshelf is the perfect way to store your bo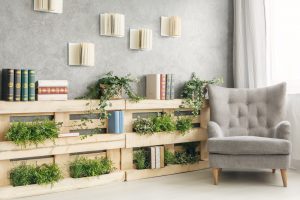 oks in an alternate, eye-catching exterior whilst also being practical and secure. To accompany your books, you can add some more personality by adding some plants to the mix.
One straight-forward yet effective use of a pallet is creating some simplistic garden furniture that adds some personality to the garden whilst fitting in with the rural, outdoor vibes. If you have so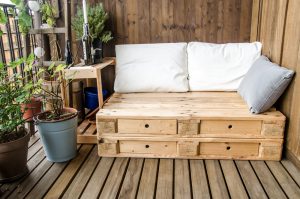 me garden gadgets or even a cosy outdoor blanket, you could build some drawers within the pallets to hold all your back yard's bits and pieces.
Another feature that makes a garden stand out, is hanging flow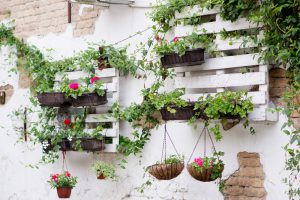 ers and wall décor. These are also particularly useful in terms of optimising space as you can have multiple flowers ground level and on the wall. By securing one of our Wooden Timber Pallets on to your garden wall, you can attach hanging baskets or have plants growing within the gaps so the plants grow around the pallet.
So if you want to switch things up in your house and create that effortless, chic interior whilst keeping costs down, order your Wooden Timber Pallets today.