All You Need To Know About…BDC's
The Catalogue and Fashion Industry 'Go To' Box
We are currently promoting a great little addition to our websites product range today, with the launch of a Kite BDC (Bulk Distribution Cartons) range. If you are an existing Kite customer you'll know that we have always stocked a good range of BDCM's (Bulk Distribution Carton Metrics) which are the most popular of this style of box. These boxes are a key product for the mail order, catalogue, retail and fashion industries – as well as being a superb product for archiving materials in large storage facilities.
What Are They?
The key difference of BDC's and BDCM's are the way they are measured, because the 'M' in BDCM stands for metric these boxes come in sizes that are set in millimetres. The sizes range from small to large and are identified by numbers (e.g. BDCM 1, BDCM 2 etc.). On the other hand BDC's are measured in inches and are quoted in this way rather than metric sizes, they are also numbered so that they can be easily identified by retailers and distributors.
Both BDC's and BDCM's are essential to the fashion retail industry in particular, most retailers require product to be delivered in specific sizes of BDC/BDCM boxes as they are easier to stack and will carry an average number of items. One of the key reasons this box is so widely used in the industry is the industry standard BDCM printed panels which feature on one side of the box. These are used to inform the person receiving the goods of what will be inside – however these do differ from each type.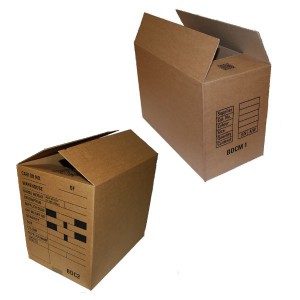 On BDCM boxes there is space to indicate the supplier name, catalogue number, colour, size, quantity and contract details. This is perfect for the catalogue industry who may have warehouses full of stock – it is much easier to pick straight from the correctly labelled BDCM box.
BDC boxes have slightly different printed panels, with space to include the carton number, gross weight, description, supplier code as well as catalogue number, colour, size, quantity and supplier name. These are ideal for when more information is required and especially for shipping, as the weights and descriptions are useful for carriers.
Another key advantage of BDC's and BDCM's is their superior strength, categorised as 'heavy-duty' cartons they can hold a surprising amount of stock which can be easily moved around on a forklift or picking trolley. If you work in the clothing industry you'll be aware of how heavy garments can be in bulk – these cartons are designed with sturdy single wall cardboard and a high quality Kraft paper outer for extra strength and tear resistance.
Our Range and Prices
We have worked hard with our in-house teams to ensure that we provide our customers with the most competitive prices for BDC's on the market. Currently in the UK there are very few suppliers who specialise in products especially for the clothing and mail order industries so we hope they provide a benefit to your business.
The boxes will be sold in packs of 50 which is a reasonable number for small to very large retailers. For larger orders of course there is great bulk prices which are at kite trademark. If you order 1-3 packs you will pay £27.50 pp for BDC 1, £21.75 pp for BDC 2 and £15.50 pp for BDC 3; however if you order 40 or more packs you will pay £22.00 pp for BDC 1, £17.40 pp for BDC 2 and £12.40 pp for BDC 3.
Full price details can be found on the BDC/BDCM product page.