Introducing DS Smith R Flute®
Introducing a new style of corrugated board
Always keen on searching out the latest technologies for our customers, here at Kite Packaging we are pleased to announce the launch of R Flute® corrugated board this year.
For those of you who are unaware of the term, R Flute® refers to a new type of corrugated board that has environmental and economic advantages over traditional flutes.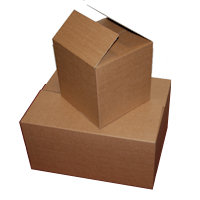 This innovative new packaging product has undergone a meticulous development process that resulted in a profile in which the flutes are smaller and closer together than B-Flute, whilst maximising board strength.
Numerous benefits over traditional board types
Switching to R Flute® has many benefits, both in terms of cost saving, increased performance and environmental credentials:
R Flute® makes use of 30 per-cent more flute tips per cm or inch, which means products containing this board have a greater resistance to pressure from items like cans and bottles.
The board has an improved print surface which is great for small businesses and online traders keen on maintaining quality control.
By switching to R Flute® you can get at least 20 per-cent more packaging delivered per pallet, this means less inbound handling and fewer packaging deliveries which means less traffic and less admin, saving you money!
R Flute® also makes use of an improved geometry for optimum performance which gives crisper creasing.
Following an intensive trial period across numerous applications R Flute® usage has accelerated very quickly. It is already an extremely popular board type used across the industry.