Kite Packaging Crowned Packaging Company of the Year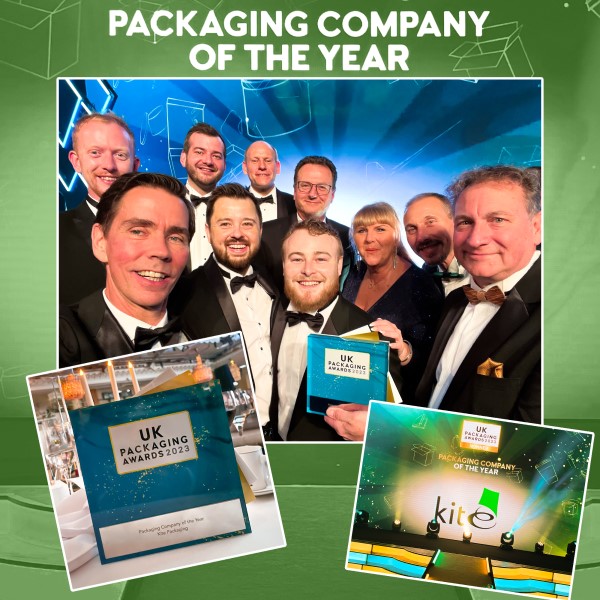 Kite Packaging recently had the honour of being awarded the title of Packaging Company of the Year at the highly acclaimed 2023 UK Packaging Awards. It's a fantastic achievement for all of us at Kite, and a testament to the hard work and dedication of our entire team.
Following a commendation for the same award last year, this prestigious accolade recognising excellence in packaging design, production and innovation reflects our continued endeavours and successes as a trailblazer in the industry.
The awarding body had some kind words for us. They praised us on our ability to deliver packaging products and services which align functionality with environmental consciousness, whilst actively reducing our environmental impact and demonstrating a strong sense of social responsibility.
Our commitment to excellence extends beyond our products and services. Continued investment in employees, exemplified through initiatives like apprenticeship scheme, graduate management programme, and sales academy, highlights our dedication to nurturing a skilled and dynamic workforce which injects fresh ideas and perspectives and into the industry with every cohort.
Moreover, our share incentive scheme is another aspect of our commitment to our team. It fosters employee engagement and ensures that our collective goals are aligned with the long-term success of the company. This, in turn, empowers us to consistently deliver exceptional customer service and exceed expectations, propelling us towards financial success because, at Kite, we are driven by customer satisfaction.
This remarkable achievement is a testament to Kite Packaging's unwavering commitment to excellence across all aspects of our operations. We're excited about what the future holds and are determined to continue our journey as industry leaders.
If you're curious to learn more about Kite Packaging and the products and services we offer, please click here. Thank you for being a part of our success story!