Kite Packaging's online division nominate Zoë's place as 2018 charity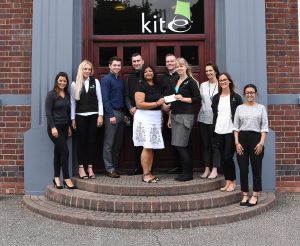 Employee-owned packaging company, Kite Packaging's online division announced Zoë's Place as its 2018 chosen charity and donated £1000. They will support this charity throughout the remainder of the year.
With its dedicated philosophy of compassionate support, Zoë's Place provides extensive palliative, respite and end-of-life care to babies and infants throughout the Midlands. Muna Chauhan, Corporate Manager at Zoë's Place said:
"We were approached by Kite Packaging to come in and receive a donation, but we were not expecting a fantastic amount of £1000 which will provide an additional forty hours of care, it's simply wonderful. The company are now supporting the hospice as their chosen charity, it's most encouraging to receive local support and it makes a big difference. In fact, we are frequently providing more End of Life Care and that means we need to open seven days a week 24/7, it's a crucial part of the wonderful services and support we offer to the families at their most vulnerable times. I encourage more local businesses to get on board."
Kite is proud to be able to support Zoë's Place and hope its online team can help raise awareness of the amazing work the charity do.
For more information about Zoë's Place and its incredible 24 hour care please visit https://www.zoes-place.org.uk/default.aspx or for more information about Kite Packaging visit https://www.kitepackaging.co.uk/.