Kite Packaging Opens New Portsmouth Branch
FOR IMMEDIATE RELEASE
29

th

 June 2015
Kite Packaging Opens New Portsmouth Branch
The significant expansion will allow for further growth for the company in the South Coast region
Leading packaging distributor, Kite Packaging, has officially opened its brand-new South Coast branch, based in Portsmouth. The official ribbon-cutting ceremony took place this week, at the new building in Admiral Park.
Visiting the new branch for the first time, Kite's Managing Partners, who are responsible for the other UK branches and various divisions within the Kite Group, as well as Kite's Chairman Bruce McInnes, opened the 22,000 sq. ft, newly renovated facility this week.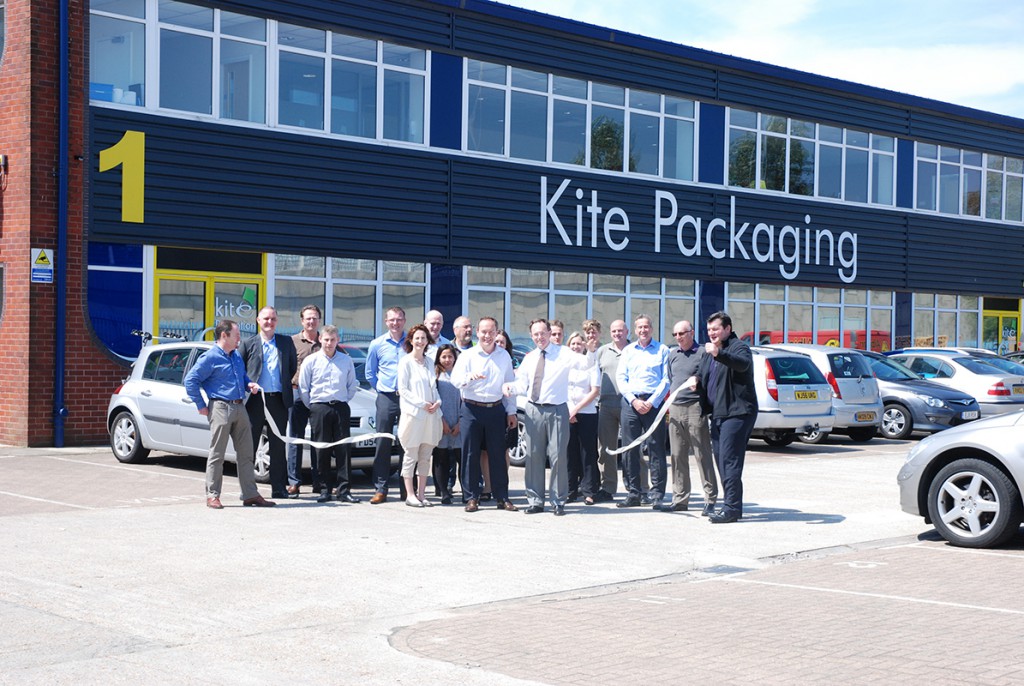 The acquisition was announced just a few months ago, following a successful 2014 and first quarter, and is a huge expansion for the Portsmouth team. The new Warehouse has increased storage capacity by 300%, and features brand-new narrow aisle racking - specially designed to integrate with Aisle Master Forklift trucks - creating more space for customers stock.
Investment has also been extended towards the technology and transportation areas of the new branch. The introduction of a brand-new Warehouse Management System will help make daily operations more efficient, and a new 18T truck has also been introduced – increasing trucking capacity by 40%.
Marking the second property grand opening of 2015 for the employee-owned business (Kite opened its Sittingbourne branch in February), the new site will also welcome new employee partners over the next few months to support its expansion.
Neil Hopkins, Managing Partner of Kite Packaging South Coast commented: "It has been a hugely exciting time for us moving from our old building in the Nelson Centre to this new facility. We have needed the extra space for a while as our growth has been so significant, and I am incredibly pleased to be able to welcome more products, more customers and more partners to our branch."
Kite Packaging's Portsmouth branch is a dedicated branch for businesses looking for bespoke packaging, service solutions and a dedicated account service in the South Coast. Covering a number of regions from Dorset to Hampshire, Surrey and Sussex, the new site in Admiral Park will support the rapid growth of the branch. To find out more about Kite Packaging please visit www.kitepackaging.co.uk
-ends-