Our Midlands Regional Distribution centre has donated £1000 to the Marie Curie Hospice!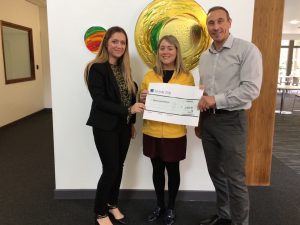 Our Midlands Regional Distribution centre has named its 2018 charity which it will be supporting for the remainder of the year.
Our Midlands's team have pledged to support the Marie Curie Hospice who they have just given £1000 to in order to help the hospice continue providing the incredible service they offer.
The Marie Curie Hospice, which is situated in the West Midlands, is one of the newest and most advanced hospice facilities in the UK that provides dedicated care for people living with any terminal illness and their families.
Its committed team make the hospice a warm, welcoming place where loved ones can be together in peaceful, comfortable surroundings whilst offering high quality specialist care and support throughout the Midlands.
The running costs of the hospice are £9,200 for each day, £2,000 of which is paid by the NHS however the remaining £7,000 must be raised in donations.
We're  very  proud to be able to help the hospice in any way we can and this £1000 will go towards the hospice's  patients' everyday care.
For more information about Marie Curie and the incredible work they do and to donate, visit the Marie Curie website.