Our Mobile Test Facility parked its wheels at automotive giant Nissan last week
Our expansion into the Northeast is proving to be a success, with our insightful open day at automotive giant Nissan.
The team at our Northeast Regional Distribution Centre, who has plans to move into a large base in Washington in June, were able to assess Nissan's different packaging requirements using our Mobile Test Facility.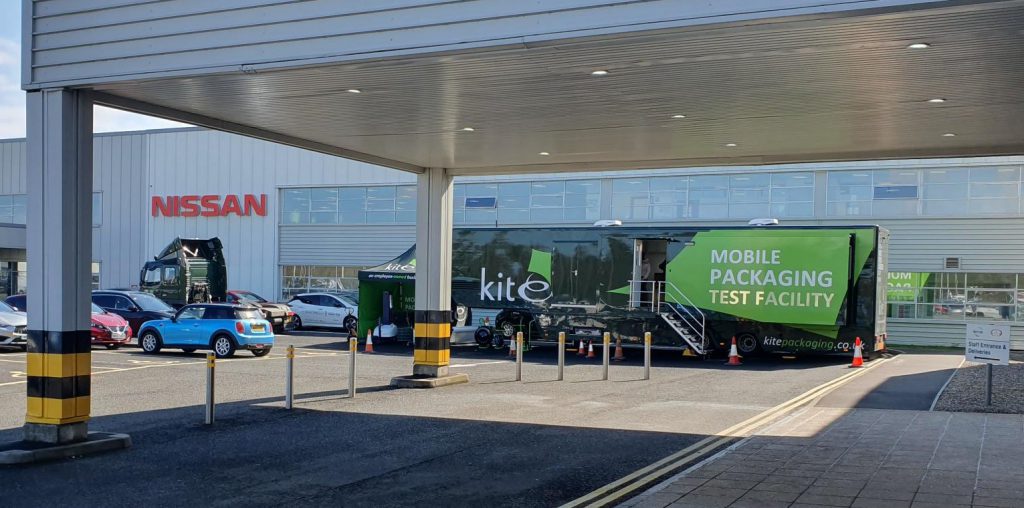 The truck has on board a range of packroom equipment, including a low profile machine, Sprick paper systems, 5x5 system, air cushioning and an over-head delivery system, allowing our team to find the most effective bespoke solutions for Nissan's operation.
A number of key tier 1 suppliers attended the day, with everyone involved having the opportunity to explore the mobile test facility's packaging solutions.
With JIT delivery (Just-in-time manufacturing) being a critical factor in the automotive sector, our North East Regional Distribution Centre located in Washington is situated close to many surrounding automotive businesses, therefore ensuring their production lines can operate efficiently and uncompromised.
With our enhanced service compared to our competitors, Kite understands the need for leading businesses in the automotive industry to be able to meet a range of requirements.
The open day oversaw our Northeast workforce demonstrating how Nissan can meet these, including elements such as, reducing damages using innovative surface protection materials, utilising AutoCAD and Solidworks to visualise packaging concepts, reduce transport costs by improving cubic capacity through design and minimise environmental impact.
We thoroughly enjoyed the day at Nissan in which we were able to explore innovations within the packaging industry that provide Nissan with effective, bespoke solutions. Thank you to all tier 1 suppliers for making the day such a huge success.
For more information about service in the Northeast, send in any enquiries to northeast@kitepackaging.co.uk