Packaging Fishing Equipment – The Packaging Doctor
Breakages, damages, refunds, customer dissatisfaction – these are all words that as a retailer you really don't want to hear.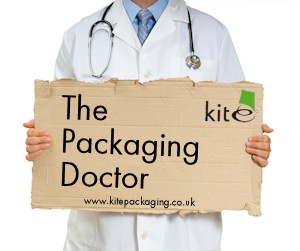 I'm sure that nearly all of us can pin-point a time when we received at least one package where the outer packaging or the product is damaged. The instant feeling of disappointment is a lasting impression that many consumers experience daily. For the retailer, being responsible for these damaged products has a detrimental effect on a business, both financially and personally.
Damaged products are a problem that can be easily avoided by looking at the packing procedures in place and making simple changes.  It is significantly important for retailers to implement these changes as we enter into peak packaging season in the build up to Christmas, to help save time and minimise customer complaints.
Read on to find out how I helped introduce a simple change to a fishing equipment company's packing procedure…

Hi Doctor,
We are a family owned and ran business, and have been selling fishing equipment for over 100 years.
We are looking for an alternative packaging method of sending out our equipment as our current system results in parts being damaged.  We have loyal customers all around the world, so we are after a simple and cost effective alternative that will put an end to damage related complaints. What would you recommend?
Thanks, Mark
Hi Mark,
Thanks for taking the time to send in your question into the surgery today. I have the perfect mailing solution for you.
I would recommend using our Arofol envelopes. These are a low cost mailing solution and are an economical, protective, general-use postal envelope.
The envelopes are bubble lined with a glazed Kraft paper outer, designed for tear resistance. They are also finished with a peel and seal adhesive strip for secure closure, protecting your products against tampering. The protective layer in the bags will instantly help to reduce your damage costs and customer complaints.
Our envelopes are available in two colours, both white and gold, and we stock a variety of sizes providing flexibility for shipping your wide range of fishing equipment. These mailers also have significant environmental benefits, manufactured from FSC approved paper to promote responsible forestry and manufactured using no solvents so that they can be recycled after use.
Hope this helps!
Best wishes,
The Packaging Doctor
 Note: All the packaging problems our doctor receives are real queries from customers or non-customers.
If you have a packaging problem that needs diagnosing get in touch on Twitter @kitepackaging or email packagingdoctor@kitepackaging.co.uk