Protecting works of art
Art collectors spend hundreds, if not thousands of pounds on delicate paintings, usually in an ornate frame that can be just as fragile as the artwork. After spending all this money, you want to ensure that as it is transported from the gallery to your wall it arrives in one piece and does not lose any of its value!
The best all-in-one form of protection is our telescopic picture frame boxes. These are formed of an overlapping base and lid that slide over your product to protect it. Made from a strong double wall cardboard, this type of box protects paintings, framed photos and other flat items from impact damage and scrapes on all sides.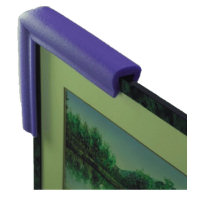 When extra protection is required we recommend looking at our range of edge protection - from solid cardboard strips that can be used to reinforce and add extra rigidity, to foam shock absorbers that add extra cushioning to delicate frames. Corrugated cardboard sheets can be used to protect flat surfaces, or when a more flexible solution is required you can use single face corrugated to wrap around the edges. This product is provided on rolls and consists of corrugated board with only one layer of paper (the wavy fluting is exposed).
Foam can also be bought in large rolls so you can wrap larger paintings or cut off sheets to protect the front and back of the artwork - unlike some other forms of packaging such as bubble wrap, foam is non-abrasive so won't damage the surface of your picture. Alternatively, use tissue paper to protect the surface then apply bubble wrap for cushioning.
To ensure your packaged work of art is not damaged by poor handling, we suggest using 'FRAGILE' printed tape. This not only seals the final package, but makes it clear to handlers that they need to treat the package with care.