Packaging regulations
Introduction
The Producer Responsibility Obligations (Packaging Waste) Regulations 2007 and Amendments (AKA: The Packaging Waste Regulations) are a legal requirement for UK businesses and operate like a tax on packaging usage, which is used to fund recycling of packaging waste and minimise the impact of packaging waste on the environment.
These Regulations place an obligation on individual businesses and groups of companies within the UK to calculate the amount of packaging they handle and offset the cost of recycling this material in the UK waste stream. Although they are called the Packaging Waste Regulations, they are not concerned with the way you dispose of your waste, they are concerned with all the packaging you handle as a business.
Smaller businesses are not affected however if your company…
Is a UK business that performs any activities involving packaging
Has a turnover of £2 million or more
Handles more than 50 tonnes of packaging per year (excluding exported packaging)
...then you are legally required to register your company and submit annual packaging reports.
If you are an online Kite customer you are able to access the weights of the packaging you have purchased online by going to 'My account', although it should be noted that this only forms part of your obligation.
If you are a Kite RDC customer please contact your local RDC for this operation. Please click here.
Compliance schemes
Kite Environmental Solutions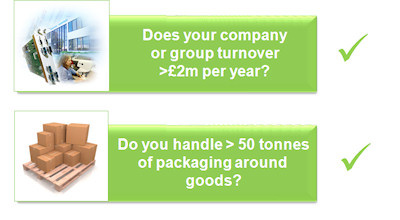 The process for registering can be time-consuming and complicated, which is why the Government introduced Compliance Schemes to help companies with their assessment and the registration process. Kite's compliance scheme, Kite Environmental Solutions (KES), is a Government-Accredited Compliance Scheme for the Packaging Regulations and aims to manage the entire process and adopts the 'Kite approach' when it comes to service.
Many compliance schemes simply register companies; whereas Kite's Scheme takes you through the entire process, from interpreting how the Regulations affect your business, identifying the information you need to capture, developing a bespoke system to assess your obligation by producing 'packaging data request' and calculating the packaging weights you need to declare in each of your packaging streams.
Through on-site support, a partnership approach and in-depth knowledge of the Regulations, we ensure that your business meets and exceeds the Environment Agency's data accuracy requirements and puts you in the best position to pass their compliance audits.
If you meet these criteria you may be obligated, please email us or call 024 76420 080.
Green credentials
Essential requirements
The Packaging Essential Requirements Regulations affect all companies who purchase packaging to add to their goods. Designed to ensure that the packaging used is fit-for-purpose they can result in the prosecution of companies who use an excessive amount of packaging around their goods.
Kite Packaging can perform a review of the packaging you are using within your business to ensure that it provides sufficient protection, without requiring the use of large amounts of unnecessary packaging.
In addition Kite can also assess your storage capabilities, packaging processes, transport systems and your customer's requirements for the goods to ensure that the packaging recommended for your use is the most efficient and best value solution for yourselves and your goods through their onward supply chain.
Heavy metal directive
Under the heavy metal directive companies are required to ensure the levels of lead, cadmium, mercury, and hexavalent chromium present in their packaging products are below certain specific limits. Kite only works with suppliers who comply with this requirement, to help with its on-going directive of reducing packaging's impact on the environment and to protect our customer's health and safety interests.
Our statement of conformity is available on request.
'Enviro' products
Kite has developed a range of products designed to minimise the impact of packaging on the environment. The first product in this range was the Envirobox, which was developed in conjunction with WRAP (Waste and Resources Action Programme). Kite's challenge was to come up with a single wall carton as strong and robust as a double wall carton to reduce environmental impact. Following a six month trial with selected Kite customers our design won WRAPs seal of approval.
Due to the successful launch of the Envirobox, Kite has subsequently developed a range of other products which provide significant benefits to the environment, over and above standard packaging alternatives. This includes Envirostretch and Envirotape.
Green terminology
With the increasing emphasis being put on sustainable business practices and environmentally friendly products and the resulting avalanche of 'green-wash' Kite has developed a brief guide to help customers decipher 'green terminology' encountered in the Packaging industry.
Packaging and the Environment (pdf)