Extended Producer Responsibility
Packaging regulations
Introduction
As of 2023, the Packaging Regulations in the UK have been reformed, with the Extended Producer Responsibility now taking precedence, the aim of which is to place a greater responsibility on businesses for the Full Net Cost of packaging at end-of-life.
Like with the previous regulations, EPR places an obligation on individual businesses and groups of companies to calculate the amount of packaging they handle and offset the cost of recycling this material in the UK waste stream. Despite some misconceptions, they are not concerned with the way you dispose of your waste, but rather the packaging you handle as a business.
You will be legally required to comply with Extended Producer Responsibility if your business meets the following criteria:
Have an annual turnover of over £1 million
Handle more than 25 tonnes of packaging per year
If you are under these thresholds then you do not need to register, however you will still need to monitor your packaging and check annually.
If you are a Kite online customer, you can access the weights of the packaging you have purchased online by going to 'My account', although it should be noted that this only forms part of your obligation.
If you are a Kite RDC customer please contact your local RDC for this operation. Please click here.
For more information about EPR, please click here or contact 024 76420 080.
Compliance schemes
Kite Environmental Solutions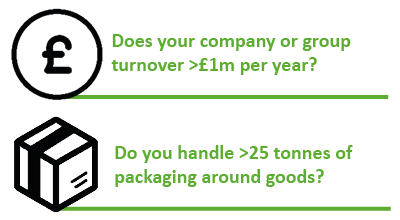 The Regulations can be daunting at first glance, and with EPR upon us the pressure to get compliant is on. That is where Kite's compliance scheme, Kite Environmental Solutions (KES), comes to your rescue.
To help with the compliance process, the Government introduced Compliance Schemes, and KES is one such Government-accredited Compliance Scheme for EPR. We aim to manage the entire process and adopt the 'Kite approach' when it comes to our service.
Whereas many other Compliance Schemes simply register companies, KES takes you through the entire process, from interpreting how EPR affects your business, identifying the data you need to gather, developing a bespoke system to assess your obligation by producing 'packaging data request' and calculating the packaging weights you need to declare in each of your packaging streams.
Through on-site support, a partnership approach and in-depth knowledge of the Regulations, we ensure that your business meets and exceeds the Environment Agency's data accuracy requirements and puts you in the best position to pass their compliance audits.

are obligated by meeting these requirements, or have questions about EPR, please email us or call 024 76420 080.
Alternatively, you can visit us on our website.