What is a plain grip seal bag?
Our polythene bags feature a grip seal to firmly enclose the contents and quickly access them again when needed. The standard grade low-density polythene film is comprised of 70% virgin material and 30% recycled content and this may slightly affect the clarity of the material.
What can polythene bags be used for?
The plain grip seal bags are an effective way of keeping items free from dust, grime and moisture whilst in transit or in storage. This ensures that they arrive in pristine condition, enhancing customer satisfaction.
Everything from body jewellery to nuts and bolts can be safely packaged in these resealable bags to keep them from rattling about in an outer box or mailing bag. Multiple items can be separated by using these lightweight bags, avoiding tangling inside a package. Alternatively, they can present smaller items within a retail setting while ensuring that optimal hygiene is maintained should products be handled by various customers.
The larger sized bags can also be used for protecting reading materials such as manuals and documents. The large range of sizes make these resealable bags suitable for a wide assortment of purposes; they are a versatile packaging solution to have on-hand in warehouses and offices.
Bag size is given as internal dimensions: opening width x height.
Are grip seal bags recyclable?
The standard polythene bags can be recycled, the customer simply needs to confirm that code 4 materials are accepted in their locality. The bags are very thin yet durable, meaning that minimal plastic is used to make the packaging as eco-friendly as possible. The recycled content heightens the product's sustainability while avoiding the Plastic Packaging Tax.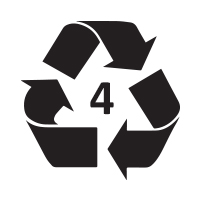 Click here for our recycling guide
Video:
Grip seal bags demonstration video
Introducing our range of resealable grip seal bags, some with a write-on panel.
Our grip seal bags are available in a range of sizes and can be plain or feature white write-on panels.
To use, open the bag and slide in your items.
Each bag has a grip seal for secure sealing.
Large bags are available for bigger items and volumes.
Press firmly on the seal and run your finger along it for secure closure.
Bags are available with write-on panels for easy identification. Lay the bag flat and use a permanent marker to write on the panels.