What is a write-on resealable bag?
These grip seal bags are comprised of clear polythene with 70% virgin material and 30% recycled content. This may affect the clarity slightly though the functionality is not altered and the bags remain transparent so that the contents can be easily seen.
The main feature of these polythene bags is the plain white write-on panel that can be marked with regular pens, markers or even pencils. The resealable strip is firmly closed by pressing along the opening and can be quickly unfastened again by pulling the material apart.
What can polythene grip seal bags be used for?
The wide range of sizes can cater toward a variety of different products with the benefit of being labelled to quickly ascertain their contents. This can be helpful for DIY products such as nails and screws where the specific size of the items can be presented on the plastic bag. Making polythene bags easily identifiable can significantly smooth picking and packing operations in addition to organising stock in storage. The bags are reusable and long-lasting, making them a highly economical choice for individuals and businesses alike.
Bag size is given as internal dimensions: opening width x height.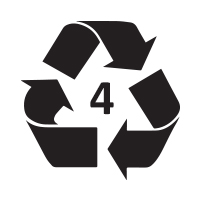 Click here for our recycling guide