Packaging Designs Fit For A (Future) King
The birth of the royal baby was an occasion that the whole world had been waiting for, and it didn't come as a disappointment. The Duchess of Cambridge appeared from St Mary's Hospital on July 23rd with her new-born son George, looking every bit the doting mother with HRH Prince William smiling down at their bundle of joy.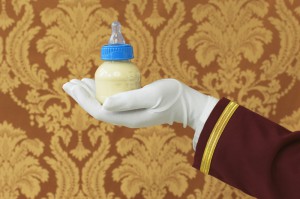 But what has this got to do with packaging? A whole host of household names have released limited edition packaging to welcome the new royal arrival, and whether you're a royal fanatic or unfazed by the news it is interesting to see how British brands have created limited edition, creative packaging concepts from the recent announcement.
Fancy Fabric Care from Comfort and Persil
These designs from Unilever brands Comfort and Persil (seen in Packaging News) are a perfect example of merging Baby Cambridge and a brands ethos of family values and looking after sensitive skin.
The designs have been specially produced for the Comfort Pure range which is hypoallergenic and dermatologically tested so that it is suitable for babies and Persil's non-bio range which is also gentle on skin. We love the simplicity of this packaging, and particularly like the Comfort bottle, in sumptuous gold and cream, which includes a gold crown on top of the Comfort baby's head. This is also an outstanding example of how far packaging printing has come, particularly with the vivid design on Persil's box and the tiny gold detailing.
Our verdict? Good effort Unilever, a tip of the hat to the new arrival without straying from the brands identity and maintaining a clear link between the royal baby and products that fit. This is another victory for the company packaging-wise, after the success of Persil Small and Mighty, a concentrated liquid designed to reduce the amount of packaging used and be more environmentally friendly.
Marks and Spencer Draw Another Royal Flush
Marks and Spencer have always been hot on the heels of a royal occasion, with dedicated sections of their stores for the Diamond Jubilee, Royal Wedding and so much more, and this event has been no exception with the launch of their royal baby biscuit tins.
The tins look like something from a children's story book, and typifies the traditional picture of the royal family that the public know and love, featuring beefeaters, corgis and soldiers as well as a commemorative engraved gold plaque detailing Prince George's birthday and congratulating the couple. Only 1500 tins were produced, some of which were sent to the royal family.
But what do we think? Marks and Spencer seem to have pulled at all the stops on this one, and the engraved plaque (specially engraved by a family-run business in Manchester) definitely adds a sense of specialness to the overall packaging design. At £20 each these tins aren't cheap, however the robust tin material and timeless design ensures that this piece of commemorative merchandise will stay in families for generations.
A Very British Celebration From Twinings Tea
There aren't many things much more British than tea, and the 'new arrival' loose tea flavours Twinings have come up with are a perfect treat for those who want to raise a cup to toast Prince George or to their own newborn.
Available in China White, Yunnan and Peppermint the teas come in cylindrical boxes, with gold metal lids. The design is very traditional, but featuring a large gold baby rattle as the focal point and tiny assorted gold images in the background of teapots, prams, safety pins and stalks.
The great thing about the Twinings tea packaging is that although it nods to the arrival of the royal baby, it has been designed and promoted in a way to encourage customers to celebrate the birth of their own babies - a good tactic to ensure further longevity of the product. The design is similar to the tea caddy's the company released for the Diamond Jubilee last year, a sign that all royal occasions will have a special tea from Twinings from now on. We particularly like the cylindrical design of this tea packaging, something that we are seeing more and more of in our industry and perfect for loose food such as coffee, tea, cereals and sweets - it certainly adds a more modern and professional finish.
And Finally From Finland.
It was reported before George arrived that the Duke and Duchess of Cambridge had been sent a traditional new baby gift from the Finnish Government. Inside the package was baby clothes, nappies and all sorts of other paraphernalia but most interestingly was the box that it arrived in doubles as a crib!
The crib is beautifully decorated with pictures of leaves and blossoms, recyclable and a perfect for trips away from home. A crib made from cardboard, with hand-holds, and that can be recycled when the baby out-grows it? If that doesn't excite our inner packaging nerd we don't know what will.
If you have any comments about this post, or would like to get in touch, follow us on Twitter - @kitepackaging
Please note that Kite Packaging is not connected to or endorses any of the products or companies mentioned above.