Brand New Packaging Products
It's been an exciting few weeks here at Kite Online as we have been adding a whole host of new products to the site and making changes where necessary to make your purchasing decisions easier. You may have received emails about some of the newest products, however to save you having to trawl your inbox to find that perfect product for your business we have collated them all together in one simple blog post.
Many of our new products and expanded ranges are down to you, we listen to a lot of feedback from our Internal Accounts team as well as the reviews you leave to ensure we are offering you the best range at the best prices. If you have any other suggestions about products in terms of bigger ranges, more sizes and new products please contact our purchasing team on NDC@kitepackaging.co.uk and we'll see what we can do to help.
So what's new at Kite? Read on to find out more…
White Bubble Lined Mailers
A great example of listening to our customers has been the introduction of white bubble lined envelopes to our postal range. Many of you loved the Arofol brand and environmental credentials, as well as the great value price tag, but were not keen on the golden colour of the paper. Gold is a classic envelope colour and many businesses still prefer this to send out important documents and goods, however more recently we have had requests for white envelopes for better presentation and to match company branding.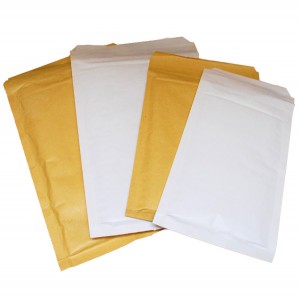 We launched the new white economy bubble lined mailers range a few days ago, and it includes mailers in sizes 1 – 5, ideal for packaging and sending small goods in the post. What's more the new range is the same low price you would expect from our economy range – not a penny more than the gold alternatives. The Arofol range is also incredibly environmentally friendly, manufactured from FSC (Forest Sustainability Council) approved paper and made using a carbon neutral process, so you can buy knowing that your purchase has helped the environment.
Air Shock Pouches Without Boxes
We're really proud of our wide range of Air Shock pouches, which are not only great value but offer unbeatable protection for highly fragile products. However we received some feedback from customers that told us that although they loved the product, they didn't require an outer box. Once again we listened, and the full range of Air Shock pouches is now available without an outer carton.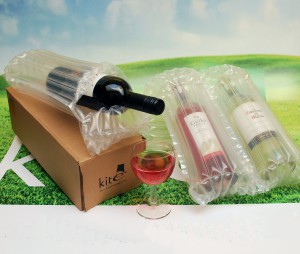 This is ideal when you are packaging large quantities of products in to a single box, or are simply looking for a way to lower your overall packaging costs. Because the outer box has been removed Air Shock packs alone are on average 30p cheaper per unit, a great saving if you are a small business looking for premium protection at a low price.
Because Air Shock is a fairly new product we have also created more content on the product page to help you understand a little better what products the packs are suitable for. Simply click on the 'Example Uses' button and find out just how versatile Air Shock is!
Heat Shrink Guns
We have always sold the classic Ripack Heat Shrink Gun, a well-recognised brand in our industry and a great tool for applying a variety of heat shrink film including pallet covers, polythene, polyolefin and PVC. Heat shrink wrap can be used for a variety of uses, the more heavy duty polythene wrap is ideal for stabilising odd shaped pallets and awkward loads, and offering a high level of protection to bulky and fragile items. The thinner, higher clarity PVC and polyolefin films are mostly used in retail to create a clear, protective film for point of sale items.
The Ripack gun has been made with advanced aerodynamics for safety and comfort, it ensures an even heat distribution across a wide area for best results and has a heat regulator so that it won't overheat or harm the user. However we understand that this equipment can be a large investment for smaller businesses, which is why we have recently launched a cheaper alternative – the ProShrink Pallet Gun.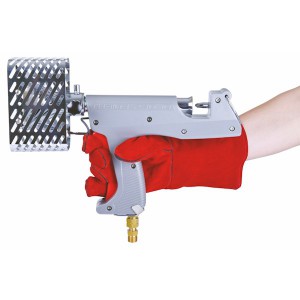 The ProShrink Pallet Gun comes in at £299.00 for one unit, and comes with safety equipment as well a stay cool shield to give extra safety. The ProShrink gun evenly distributes heat evenly and therefore a thinner, less expensive film can be used to save further costs on wrap. It also comes in a handy carry case with all the equipment you will need to use the product effectively, which is ideal for a large warehouse operation when you need to move around different areas.
Take a look below at our video which shows you how to apply pallet covers using a heat shrink gun:
Heat Sealer Bundles
More heating elements follow our haul, and this time we have added more products to our heat sealer range to create 'bundles' saving you money and ensuring you have all the spare parts you need should you need to change elements due to general wear and tear. Our heavy duty heat sealers are generally used with lay flat polythene tubing to create custom bags, and because of their robust spec are perfect for high volume users.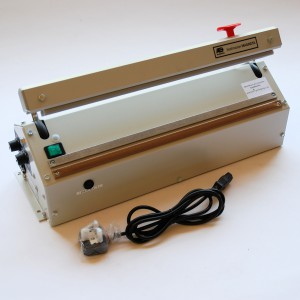 Due to the products high volume nature these heat sealers work best with a worktable and support stand for managing throughput, and can be operated with a foot pedal for more efficient packing. Our bundles now include the sealer of your choice – which ranges from 420mm wide to 1020 mm wide – along with a worktable, bag support, support stand, foot pedal, stand rollers, polylock and a full spares and repair kit. Not only are these bundles a better option in terms of ease, but they can also save you money with savings of £324 on our 1020mm bundle.
And That's A Wrap!
Happy shopping! And remember if you need any further advice about any products in our range simply call our friendly team on 02476420065 (Opt 1)