Buying Wholesale Gift Wrapping Materials – The Packaging Doctor
The Surgery Is Now Open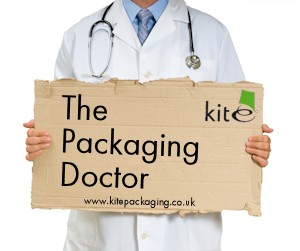 Hello Doctor,
I own an online business that sells luxury beauty products, and would like to offer a Christmas gift wrapping service for the festive season. The average order value I generate is about £100 so the packaging will need to look luxurious as well as Christmassy. Last year I bought colourful paper from a high street stationer, they worked well but were about £3 per metre, I was hoping buying wholesale would make this a little cheaper?
Many Thanks, Bethany
Hi Bethany,
Selling beauty products is a great business to be in, and especially during the festive season when toiletries are such a popular gift choice. I love that you want to offer a gift wrapping service; did you read our blog post on gift wrapping last week? We do offer coloured paper at a much cheaper price than what you're paying, our ribbed paper rolls are available in brown, red, blue and yellow which makes them great for Christmas and even other occasions if this is a service you want to offer all year round. Even if you order just one roll these work out to 79p a metre which is a big saving.
Because you are selling luxury products I would also suggest using our white boxes, you can use silver tissue paper inside for a 'White Christmas' elegant feel or red and green tissue for something truly festive. These white boxes are extremely presentable and promote luxury, even if you have some leftover they still make for brilliant packaging all year round.
Thanks, The Packaging Doctor

Note: All the packaging problems our doctor receives are real queries from customers or non-customers.
If you have a packaging problem that needs diagnosing
get in touch on Twitter @kitepackaging
or email packagingdoctor@kitepackaging.co.uk