Who Said Working In Packaging Was Dull?
As an employee-owned company Kite's staff are always looking to get in to the spirit of a celebration or cause, and the past couple of weeks have been no different. There is a stereotype of packaging distribution businesses that they are corporate, stuffy places with robotic routines however Kite are different, we still exude the ethos of an entrepreneurial, exciting business - exactly the same as when we started out in 2001 - with simply a vision and employee investment.
Today's blog post will be looking at the various ways in which we've celebrated Halloween, Diwali and Movember as well as some new innovations. Has your business been celebrating this month? We'd love to hear from you, send us your pictures on Twitter - @kitepackaging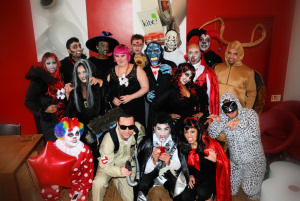 Halloween Fancy Dress
Our telesales team are the kings and queens of fancy dress and this year they didn't fail to impress at Halloween. We had a team of witches, vampires and some pop culture thrown in for good measure - all headed up by the freakiest clown we've ever seen! The whole team were involved in the Halloween Trick or Treat Challenge, with a chance to pop a 'Ghostly Balloon' when orders were generated, to collect 'Poisonous Points' for their coven. They had to be careful though - the Ghost of Kite had cursed some balloons so points could be lost or gained!
There was a huge congratulations to Count Draculas coven which included vampires, a witch, a brutal shooting and even a cockroach for winning the 'Best dressed' competition. There was also, of course, a lot of treats floating around the Kite offices and a 'Pumpkin Pail' for everyone at Kite Online full of sour apples and edible body parts, yum!
Who do you think had the best costume? You can check out all the pictures over on our Facebook page.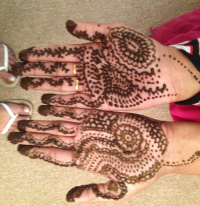 Diwali
Some of you may have celebrated the Festival of Light this weekend as well as Bonfire Night, and we had a great run up to the event last Friday with a special gift from some of our employees - fresh samosas! A great treat for everyone during the 4pm slump and a brilliant start to the weekend celebrations. We were thinking of lighting fireworks but decided against it due to a warehouse full of cardboard.
Diwali is an important celebration for our Hindu and Sikh employees, and is seen as a time of celebrating the triumph of good over evil and the love of family and friends. Diwali is similar to the typical English New Year celebrations, and small clay lamps are filled with oil and lit to symbolize knowledge and inner peace. Gifts and sweets are also exchanged to strengthen bonds of love between family and friends, and we had a lovely time sharing the Indian treats with the Kite Packaging family!
As well as this, we saw some brilliant henna on Monday morning with some of staffs hands covered in intricate designs Take a look below at a design done by our very own Kiran from Telesales.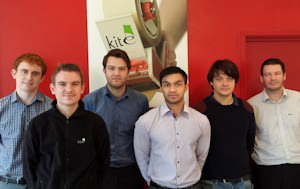 Movember
Movember has been a movement that has grown massively in popularity over the years, and is a great way for men everywhere to help raise money for some important causes including Mens Health Awareness and prostate cancer UK. Prostate cancer will affect 1 in 8 men at some point in their lives, a shocking number and a disease that is often not talked about. Movember started in 2003, in Australia, and now has more than 3 million participants in over 21 countries.
Kite believes in supporting local causes and its employees in their own fundraising efforts, most recently several of our employees completed a marathon to raise money for charitable causes and our business regularly contributes to local project close to our hearts. As well as this, we have a strong environmental responsibility agenda and work hard to deliver sustainable products such as our Envirotape and Envirobox, as well as recycling as much as possible.
Our 7 Mo Bros at Kite have decided to take part this year, and we'll be rallying around in this next week for sponsorship. With over £1.1 million raised in 2012 we want our boys to raise as much money as possible! You can head over to their fundraising page here.
To mark the occasion we have taken a 'before' picture of the guys (sort-of) fresh faces for you to cast your eyes on, they have promised to showcase some unique shapes and styles as the month draws on, so stay tuned for the 'after' pictures!
Company Celebrations and New Products
As well as some fun times in the office Kite has celebrated some record growth, with several investments which include the expansion of two branches in Coventry and Sheffield in an investment that totals £5 million. We celebrated with some wine and chocolates - a well-deserved treat!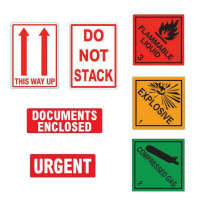 We have also launched some new products to the website recently, with a full range of standard labels that will suit any packaged products that contain fragile items or need to display special instructions. This has been a long-term project of ours, and we have worked hard to get you the best price and the best range on the market. Let us know what you think of the new products, and if you have any ideas for expanding let us know - we love to hear ideas from customers.
The new product launch has come closely after the launch of the Kite Mini Air machine which has received a great response from businesses and our specialist loose fill, vermiculite, which can be used for non-packaging purposes such as horticulture as well as packing hazardous goods.
Thank You!
We'd like to say a big thank you to our partners including customers, suppliers, media partners and of course our employees. You have made Kite what it is today - heres to the future!
Please note that Kite Packaging is not connected to or endorses any of the brand names or trademarks mentioned above.