Children and Their Love Of Cardboard
The power of the box shouldn't be underestimated. Although simple, these brown walls of cardboard have been around in England since 1817, and are pretty awesome.
With their multi-purpose, strong, reliable qualities - great for storage and keeping us organised (well, attempting to!) - they are also loved by children. Whether its castles, rockets, or puppets being made, they are a great source for crafting and provide hours of endless, safe and cost effective fun.
They can also make great environmentally- friendly alternatives to furniture.
In Finland, it is tradition for boxes to be donated from the Government to expectant mothers. Complete with baby essentials to start a woman off on her journey to motherhood, the cardboard box is lined with a mattress to double up as the child's first cot.
We love this clever cardboard-related tradition, and businesses are now creating even more cardboard creations for kids. Here are a few of our favourites:

Cardboard Cots
We applaud the innovation and flexibility of ADF Design Collection's cardboard cot. Complete with rounded edges and high walls, your child is protected during the night and safe from possible falls and scratches. Lined with a mattress, this invention is surprisingly comfy!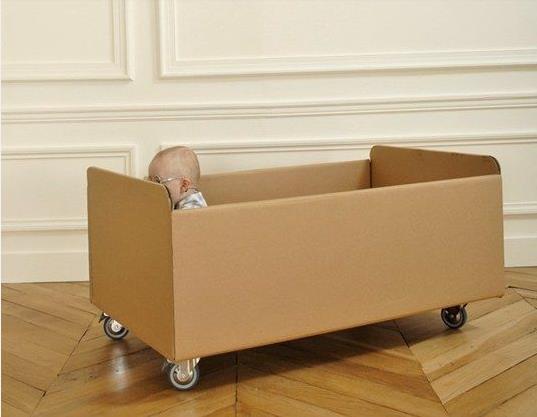 The cot is finished with little wheels so it's great for transportation; allowing you to easily move it around the house whilst it's not in use. It also provides the perfect canvas to get creative so you can paint it, personalise it or keep it plain.
Once your baby has grown out of sleeping in there, it can then be used for storage. The shape of the cot also makes a great organisation tool for the family, helping to keep all of those treasured baby keepsakes and photos safe and tidy.
Genius!
Cardboard High Chairs
Not only can you sleep in a box, you can now eat in it! As Belkiz Feedaway have designed a strong, environmentally-friendly alternative to plastic high chairs.
Cardboard high chairs are really flexible. They are great for saving space in the home and make travelling so much easier; after all we understand how stressful it can be trying to cram a pram, heaps of toys and all of those children's essentials into the car!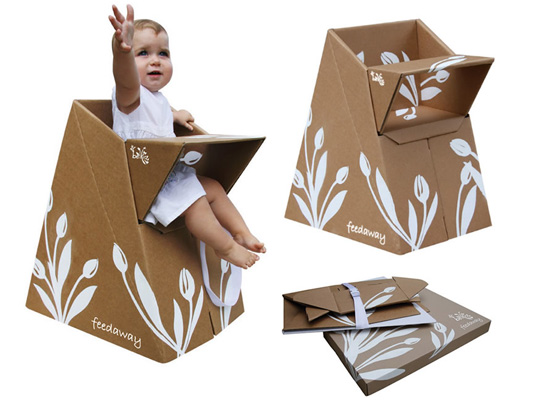 Finished with a cardboard tray, the design is perfect for collecting unwanted crumbs and spillages, and has a funky floral finish.
The high chair is delivered flat packed; allowing you to make it up when required, and recycle once when you are finished with it – in theory, helping to ease the car load on your way home!

Cardboard Chairs
The Land of Nod have designed a brilliant, lightweight, yet sturdy chair design for children.
Manufactured using plain cardboard,  the chair is ready for decoration, keep the children entertained and let them decorate it with their favourite pens and paints. Once dry, why not flip it over and use as a drawing table for crafting?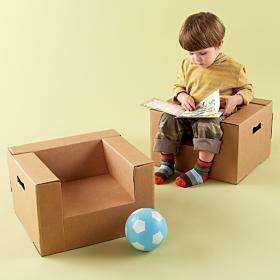 Cardboard chairs are great for saving space in the home. With their solid frame, you are able to stack on top of each other to keep the home tidy and recycle once the children have grown out of them.
It looks pretty smart to us!
As if cardboard furniture wasn't impressive enough; helping to save space and keep our children entertained, it is also fully recyclable, making it environmentally-friendly and cost effective. Implementing cardboard furniture into your home can help save production of plastic, and minimise unnecessary waste.
So, how about giving it a go and making some cardboard furniture for your home? It can be done on a budget too. Check out our range of great value cardboard boxes and sheets that are perfect for the job. After all, we all know how quickly children grow out of their current favourite toys, and how expensive it can be to replace them.
We know our "Kite Kids" are already convinced after decorating our Kinderhouses, but are you?
Let us know your thoughts and share your cardboard furniture creations with us via Facebook or Twitter!