Consolidating The Packaging Range For Multiple Product Lines – The Packaging Doctor
I Went To The Packaging Doctor and Guess What He Told Me…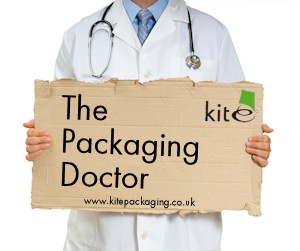 He said girl you better order bespoke packaging for your specialist needs! Okay maybe they aren't the exact lyrics of the famous Prince/Sinead O'Connor (depending which side you're on) song, but it is an important lesson – if you come to me with a more specialist product or problem, bespoke solutions are generally the best answer. Now, of course for small businesses and those who have a small product range, standard stock product tends to be an effective solution to protect and send your goods. But when you have bigger fish to fry, a brand name to protect or unusual product to send, our branch teams are at hand to provide you with the best packaging solutions and full service package. And with the launch of our branch product Wrap & Hold gaining great publicity and interest, I thought it was high time I looked at the needs of another branch customer in this week's post.
Have no fear, I'm still here to offer stock product advice as well and have experience helping all sorts of customers from builders, vets, small e-commerce businesses, big brands and even packaging enthusiasts who love to ask me the most complex of product questions! You can contact me via Kite's fantastic Twitter page, or email packagingdoctor@kitepackaging.co.uk.
Today Head of Operations Jordan came to me as he had a tricky problem with his business. Read on to find out more…
Today's Patient – 10th March
Hi Packaging Doctor,
I am Head of Operations at a multi-million pound UK based manufacturer of chains. We have customers on a global scale and manufacturer a wide range of chains, which can be used for various conveyors, transportation, food production lines and engineering purposes.
I have been tasked with sorting out our packaging, which currently isn't the best and consists of about 80 lines in total. All these cartons are die-cut and made from triple wall cardboard, as obviously our product requires heavy duty packaging. The main problems we face is that because of the sheer amount of product lines we have we order each one in small quantities, which is costly and means long lead times – putting us in a sticky situation if we have a large order and need packaging urgently.
The other problem we have is with the cartons themselves, they are quite difficult to pack due to the thickness of them and they have no inner protection whatsoever which is a key concern. The marketing team are also pretty uninspired by the packs, as they don't have any branding on them and are simply coloured blue which matches our logo. They also don't stack very well as there are so many different product lines of varying sizes.
What I'm looking for is solutions that will make the packs look more professional, use a cheap but effective protection inside the carton and most of all have a consolidated pack range which will solve the issues of lead times, space and packing difficulties.
I'd be really grateful for any packaging advice you can give!
Thank You, Jordan
Hi Jordan,
Thanks for getting in touch. I'm glad you came to me because 80 packaging product lines is just far too much – your poor old pickers and packers must be absolutely dizzy with it all! I've taken a look at your product portfolio and can see why, however, you have ended up with so many lines – all your products differ quite wildly from each other and this can cause issues. However you need to think about the way in which these items are packaged – in your case many of the products you distribute lay flat, it is merely the height of the product that differs.
With this in mind, multi-depth cartons are your friend. From the FEFCO box guide I would imagine style 0200 would suit most of your products best, and because of the multi-depth feature you would only need approximately four different designs of varying dimensions. These boxes are brilliant for printing on and because the range is now consolidated in to 4 lines a print run will be more cost effective.
A silver and blue simplistic design would look stunning on these boxes, and matches your corporate identity perfectly. To make the lids really stand out flexo-printing is probably the best option as it is the highest quality of print; you can simply screen-print the base of the boxes. I also noticed you have a number of different brands within your business, so to identify products according to the range they are from it would be best to add branded stickers in the packaging process. This would mean you don't have to get a huge variety of boxes printed and will make the packing process more efficient as your packers will simply need to peel and stick the correct label.
In terms of protection the best option for your products, which can be affected by damp, is Pack Tiger Paper. The Pack Tiger Paper System is a machine in which paper is fed through to created padded paper void fill, it is excellent at absorbing shock and will absorb any moisture to prevent rusting. The system is perfect for producing large volumes of protective packaging and can easily be picked and packed with the product in no time at all. To finish, as this is a heavy-duty product, banding/strapping would be most advised as it will hold the pack in place and ensure products do not fall out in transit. We offer a printing service for banding as well, this is ideal when you use multiple handlers as you can include warning messages. As your product is heavy I would advise printing 'do not use strapping for lifting' on the band to ensure the product is kept secure.
So there you have it, a fully consolidated range that promotes your brand. Now you have just four product lines for packaging product compared to 80, which as well as reducing costs provides a whole scope of other benefits. These include a more efficient pick and pack operation and a reduction in pallet locations – now that the boxes can be stacked you will significantly reduce the amount of space used.
For further help and implementation contact our branch team at the nearest branch to your business.
Good Luck, The Packaging Doctor
....you're still humming 'Nothing Compares 2U' aren't you? Here you go then.
Note: All the packaging problems our doctor receives are real queries from customers or non-customers.